LOAVES & FISHES VOLUNTEERS PROVIDE FOOD ACCESS DURING PANDEMIC
By Alyssa Mulliger, Content Marketing Manager, United Way of Central Carolinas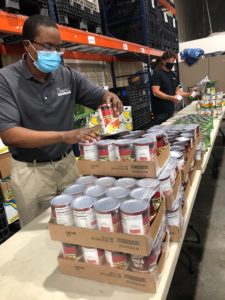 Volunteers serve a vital role in strengthening communities, assisting neighbors and advancing organizational missions, programs and services. Whether assembling hygiene kits for the homeless, organizing a food drive for the hungry or gathering school supplies for young children, volunteering has a positive impact on communities and those who lend their time and energy to help others.
The coronavirus pandemic undoubtedly has changed the way people are living, working and socializing—as well as volunteering. Amidst lockdowns and social distancing protocols that continue to evolve, organizations, companies and nonprofits are adjusting to the limitations of traditional, in-person volunteer activities.
Loaves & Fishes believes that access to nutritious food is a fundamental human right. To help individuals and families meet their basic hunger needs, the nonprofit provides nutritionally balanced groceries through a network of emergency food pantries in Mecklenburg County.
Prior to the COVID-19 pandemic, Loaves & Fishes was providing a week's worth of groceries to over 80,000 people a year through 41 brick and mortar food pantries, according to Executive Director Tina Postel. In the early weeks of March 2020 when the pandemic began affecting communities across Mecklenburg County, Loaves & Fishes was forced to close every pantry and come up with innovative solutions to serve people in need—including those in quarantine who contracted or were exposed to the virus, or were at high risk of contracting it.
"The impact of COVID-19 on our community was swift and severe," Postel said. "In early March of last year, we never could have imagined that by month's end we would be feeding three times the number of people, and in a brand new way."
To meet the increased demand, Loaves & Fishes made changes at every level of its operations. The nonprofit opened 20 drive-thru mobile pantry locations in Mecklenburg County, distributed over 2,000 boxes of emergency food a week and launched a grocery home-delivery program. Loaves & Fishes was able to quickly implement these changes with over $450,000 in grants awarded through the COVID-19 Response Fund launched by United Way of Central Carolinas in partnership with Foundation For The Carolinas.
Since 1975, Loaves & Fishes has depended on thousands of volunteers to help feed hungry neighbors in need. However, the nonprofit's brand new way of providing services did not come without challenges, including limited access to Loaves & Fishes' greatest resource—its volunteers.
"Serving enough people to fill Bank of America Stadium, half of whom are children, would not be possible without the 4,000 volunteers who run each pantry, take client referrals in our phone center, sort food donations in our warehouse or help pick up and deliver food to keep pantry shelves fully stocked," Postel said.
Sue Bruce, marketing and events director at Loaves & Fishes, said with volunteer safety in mind, during the pandemic the nonprofit quickly pulled together resources and a handful of volunteers to begin delivering groceries directly to the doorsteps of homebound individuals and families. Today, a fleet of 20 volunteers delivers groceries to an average of 75 households per week, while another group of volunteers helps pack fresh produce, meat and dairy to load into volunteers' cars for delivery.
One such volunteer is Bob Briggs. When he volunteered as a Loaves & Fishes home-delivery driver, he never realized he would come full circle and make his first grocery delivery to a Habitat for Humanity house he helped to build. Briggs continues to bring groceries to the doorsteps of individuals and families in Mecklenburg County, ensuring they have access to nutritious food in their homes.
"Thanks to the efforts of these dedicated volunteers, we will be able to continue the grocery home-delivery program into the future," Bruce said.
This story was included in a Charlotte Business Journal special section highlighting corporate volunteerism, printed in April 2021 and the United Way of Central Carolinas website