21st Annual Street Turkeys Event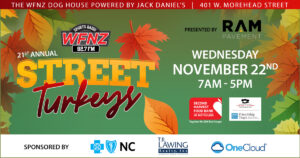 Join us for WFNZ's 21st Annual Street Turkeys Event!
Wednesday, November 22nd | 7am-5pm
WFNZ Dog House| 401 W. Morehead St.
Donate Food: We will be accepting food donations on-site and are especially in need of these priority items: Frozen Turkeys, Canned Meat, Canned Vegetables, and Canned Fruit.
Donate Funds: Your monetary donations will help Loaves & Fishes/Friendship Trays and Second Harvest Food Bank fight hunger in our community. You can donate now by texting STREETTURKEYS to 44321 or by visiting bit.ly/3svwZUa
Donate Time: Volunteers will be on-site to help collect food and monetary donations. For more information and to register visit: loavesandfishes.org/get-involved or contact us at volunteer@loavesandfishes.org
Thank you for your support!