Pop Up Food Shares/Distribucion de Comida

Para Español – Haga clic en el botó
n Traducir (Translate)
en la esquina inferior izquierda 
Thanks to the Federal "Farm to Family Food Box" program Loaves & Fishes is excited to partner with our friends at Second Harvest Food Bank in distributing excess fresh produce boxes at a series of Pop Up Food Shares this summer.  Participants will need to register to receive a box but a referral from a professional source will not be required.  These pop up Food Shares will be in addition to the Mobile Pantries we have scheduled throughout the community and will not count as one of the twelve pantry visits a year a client is permitted.
See below for a list of upcoming Pop Up Food Shares and to register: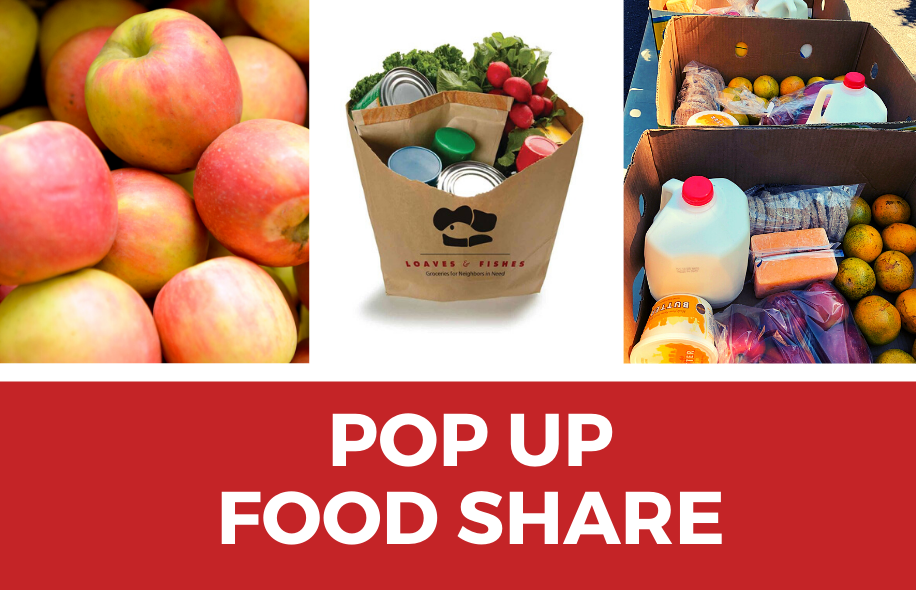 Through the federal "Farm to Family Food Box" program the boxes will contain primarily fresh produce and dairy. Participants must pre-register. Boxes will be loaded into cars drive-through style for safety.
Monday, September, 28th – 10:30am-11:30am
Simmons YMCA, 6824 Democracy Drive, Charlotte, NC 28212
Click Here to Register for the Simmons YMCA Food Share
Tuesday, September 29th –  3:00pm -4:00pm
New St. John Missionary Baptist Church, 2000 St. John Church Rd., Charlotte, NC 28215
Click Here to Register for the New St. John Missionary Baptist Church Food Share
Wednesday, September 30th – 9:00am – 10:00am
Atrium Health NorthPark, 251 Eastway Dr., Charlotte, NC 28213
Click Here to Register for the Atrium Health North Park Food Share 
Tuesday, October 6th – 10:30AM – 11:30AM
Lake Norman YMCA, 21300 Davidson St., Cornelius, NC 28031