See you later, no goodbyes
At the end of this April two very special Loaves & Fishes staff members will retire from our organization. Words cannot begin to express how much we will miss seeing these extraordinary teammates on a daily basis. They each leave an indelible mark on Loaves & Fishes and in the lives of our neighbors we serve. Please join us in thanking them for their unrelenting service and commitment to fighting hunger.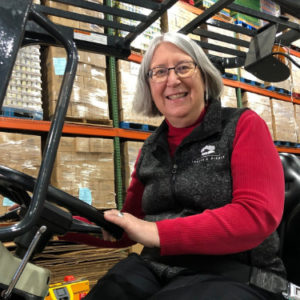 Shoon Ledyard: As Director of Finance since 2004, Shoon has successfully managed all functions of accounting and office administration and more at Loaves & Fishes. She has been a critical member of Loaves & Fishes' senior leadership team, providing strategic leadership in financial development to advance Loaves & Fishes' mission through fiscally responsible business operations and innovative, resourceful initiatives. The only skill that tops her accounting acumen is her prowess on a forklift! Shoon previously served on the Loaves & Fishes' Board of Directors as Treasurer, Chair of the Finance and Administrative Committees, and Chair of the Charlotte Has Heart food drive. In 2002, Shoon was awarded the Virginia Sampson Award for the most outstanding work, concern and effort in alleviating hunger in Mecklenburg County. She received her B.A. from St. Andrews Presbyterian College in Laurinburg, NC and B.S. from the University of North Carolina at Charlotte in accounting. She became a CPA in 1982. Prior to her work with Loaves & Fishes, Shoon practiced public accounting and was the Controller of the Charlotte Hornets NBA team from 1989-1999. Thank you Shoon for the decades of immeasurable dedication!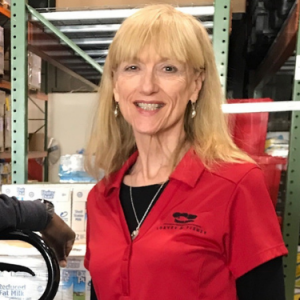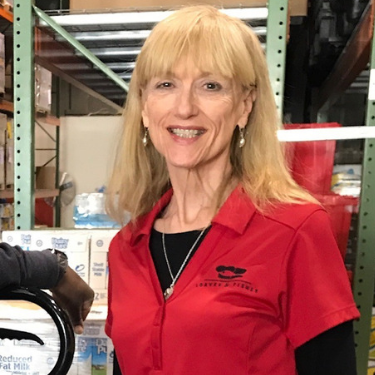 Shay Merritt: Shay is a Charlotte native, graduate of Charlotte-Mecklenburg Schools and a third-generation graduate of North Carolina State University, graduating magna cum laude. She joined Loaves& Fishes in January 2016 after achieving solid experience as both a community volunteer and nonprofit professional. She has served as a member of the Charlotte-Mecklenburg Community Relations Committee and the board of directors of Crisis Assistance Ministry, The Relatives, the Catawba Lands Conservancy and Second Harvest Food Bank of Metrolina where she spent nine years on staff in charge of grants and volunteers. Prior to joining the Food Bank, Shay spent 30 years in broadcasting management, including WBTV, News 14 Carolina (TWC News) and WCNC. She currently serves on the Planning Team for the Charlotte CROP Hunger Walk and received the first Lloyd Lancaster Award. Thank you Shay for your fearless advocacy for all those in need! We have no doubt that even in retirement, Shay will remain a champion hunger fighter and will use her voice to make our community a better place. Thank you Shay for