Packing Hope, One Box at A Time – Week 10 Update from Loaves & Fishes Executive Director Tina Postel
Hello Loaves & Fishes Friends,
Weekly numbers:  We continue to serve a huge number of people each week through our mobile and home delivery operations, though we are beginning to experience a slight decline in need week over week.   This week we served 2,946 individuals (1,111 children and 192 seniors).  
Referral Sources: Based on our referral data, the Hispanic and Latinx community appears to be among the hardest hit for food insecurity.  Camino Community Center, Latin American Coalition and the Migrant Assistance Project are now our top three referral sources and have been since this COVID crisis began.  Additionally, an unbelievable amount of people who weeks earlier were gainfully employed, now are figuring out how to navigate the social services network for the first time.  People who were past donors and food drive participants have found themselves now on the receiving end.    Our Administrative staff (Bill, Gloria, Louise and Shoon) have done an incredible job helping those seeking assistance for the first time.  In many instances, our administrative team makes the initial referral for a first time client so they have immediate access to food and then they walk them through the steps for working with a professional (from a government agency, human service organization, medical professional, etc.) who can make future food referrals and also assist them with any other needs or long term issues they may face as a result of the economic and health impacts of COVID 19.
Temporary warehouse help: Our extraordinary temporary warehouse staff members successfully packed up the last remaining pallets of assorted food in our warehouse from various pre-COVID food drives.  We have many more pallets of bulk food on order and continue to receive 2000 boxes each week plus fresh produce from our partners at Second Harvest Food Bank.  Our warehouse racks are filled with a good supply of these prepacked food boxes thanks to the community's generosity and the hard work of this warehouse crew.  Below, meet Micah and read his touching story of the hope he tosses in each box of food before he seals it shut.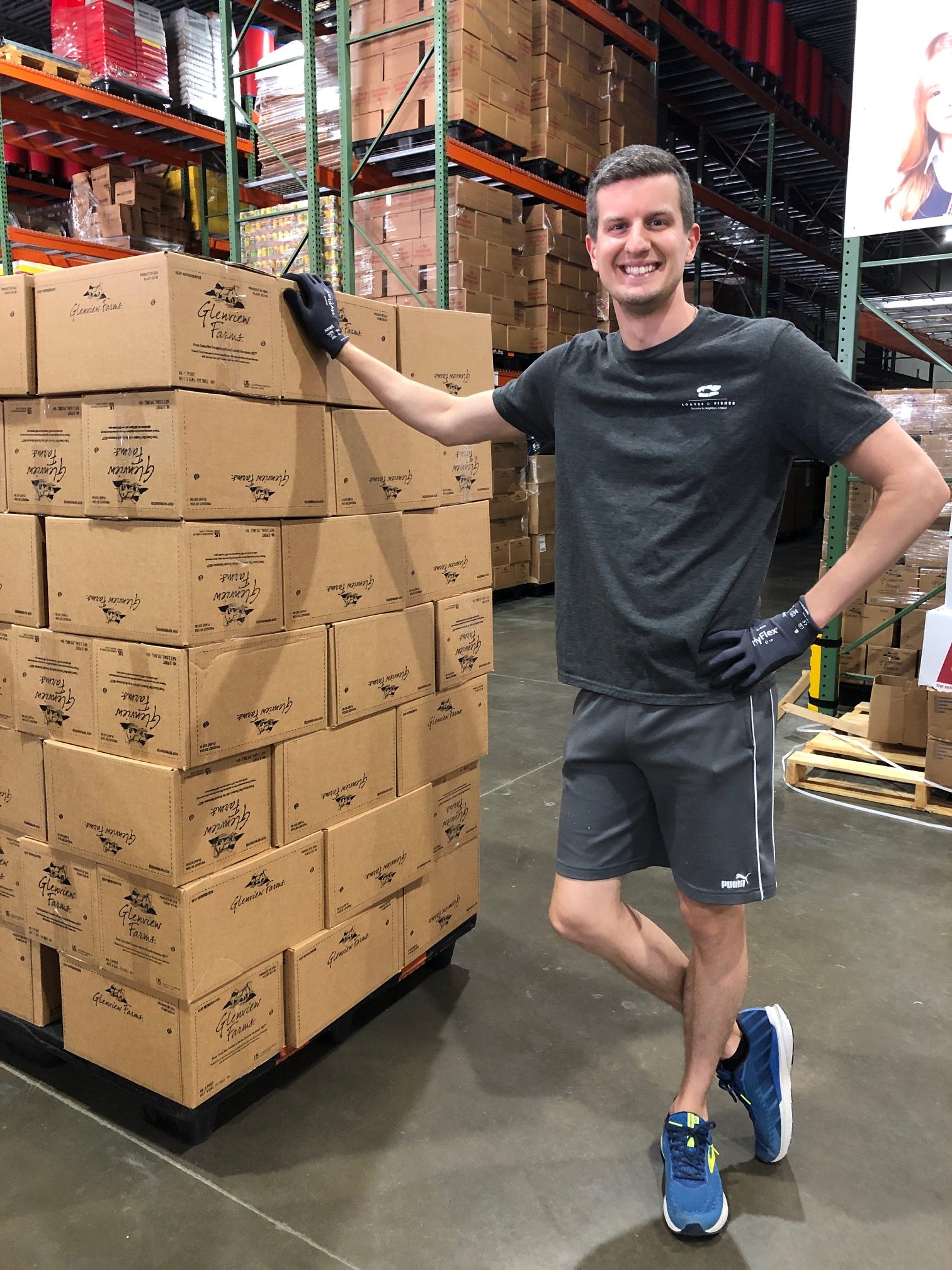 "My main job is taping the boxes closed and organizing them on a pallet until they are sent out a day or so later to a mobile site. Sure – the warehouse can be hot and the work is monotonous. But every box I tape (which is currently over 5000 boxes) and load onto a pallet, I imagine the family receiving it. I just let my imagination go and picture an individual or family who just needs that box. And when I put it on the pallet, I picture myself giving them that box. It is the hope I need in this time: the awareness of the blessings in my life and the motivation to continue to serve others as much as I can."
-Micah Hein, Essential #HungerHero for Loaves & Fishes. 
Online training: In addition to phoning in referrals to our main office or our volunteer phone center, several high volume referral partner agencies are trained in making online referrals.  Bill Bowling from our administrative team trained an additional 37 participants this week from government agencies and nonprofits this week through a virtual Zoom training!  An analysis of last week's referrals showed that 57% of referrals were entered online while 23% were entered by our incredible phone center volunteers and 20% were entered by our Administrative office.  We are thankful for the technology enhancements that help us fill people's critical food needs more immediately.
Support for our frontline workers: We remain in awe of the outpouring of love and generosity from our community not only for our neighbors in need experiencing food insecurity but for all of our frontline workers as well.  We have been spoiled in the recent weeks with complimentary lunches, sweet treats and even generous gift cards for our folks on the front lines.  Thank you, thank you, thank you to each of the generous donors who keep our team fueled up and inspired to do more!  You have no idea what your kindness means to us…..and I promise, we pay that kindness forward everyday to our neighbors that are counting on us!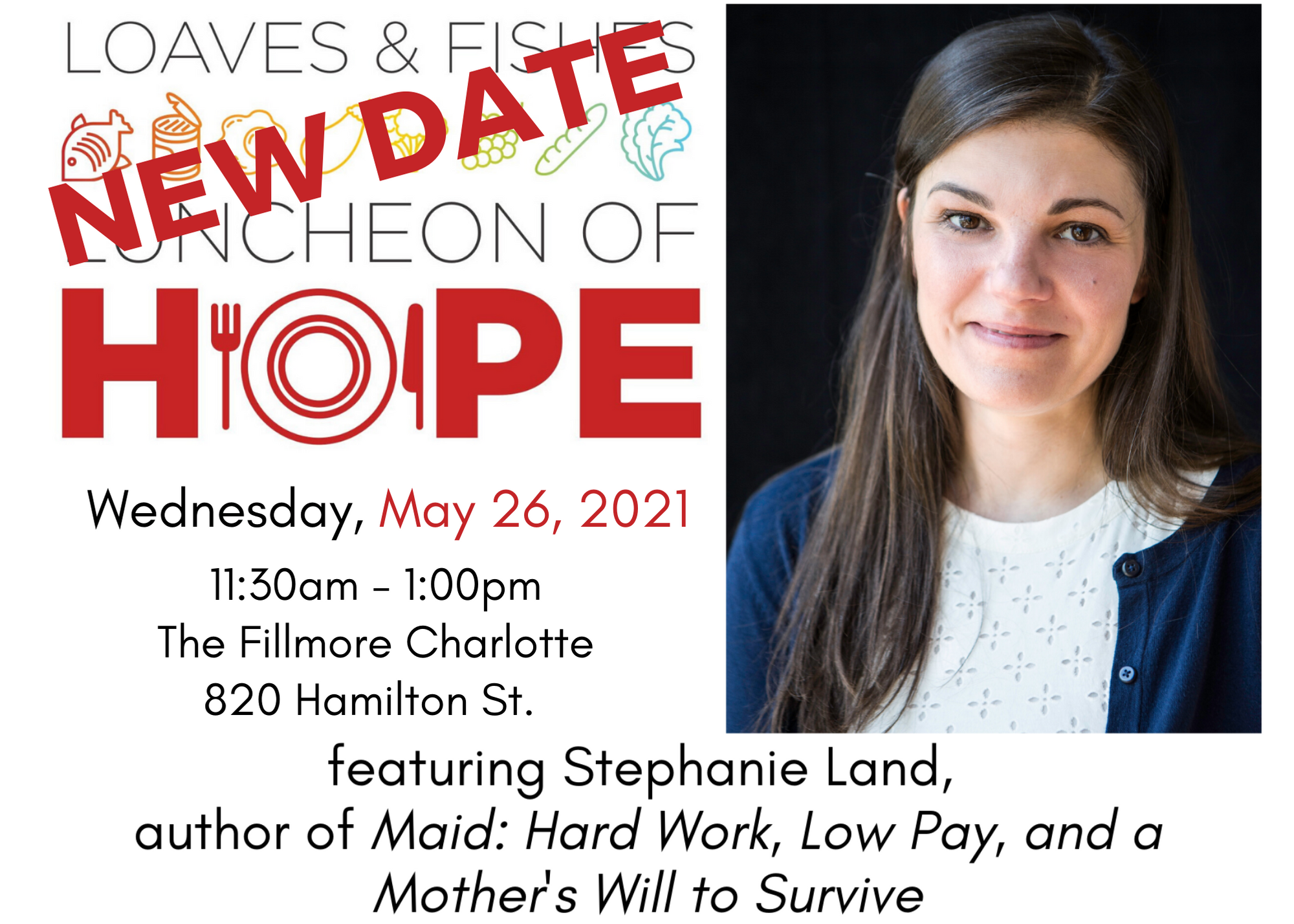 HOPE HAS A NEW DATE! The 3rd Annual Luncheon of Hope featuring Stephanie Land, author of the NYT Bestseller, Maid, originally scheduled for May 13 has been rescheduled for Wednesday, May 26, 2021. It's never too early to mark your calendars and make plans to join us next May!
Upcoming Memorial Day Holiday:  Our Administrative Office, Warehouse and Mobile pantry operations will be closed Saturday, May 23rd through Monday, May 25th in observation of the Memorial Day Holiday.
Stay safe my friends and thank you for reading about our Loaves & Fishes work!