A Volunteer For Life
Every Wednesday morning, Sue Gooley arises at 6:30 a.m., hops in the shower, has breakfast, and arrives at the Holy Comforter pantry by 8:50. She sweeps the floor of the entire work area, then hustles around doing whatever needs to be done.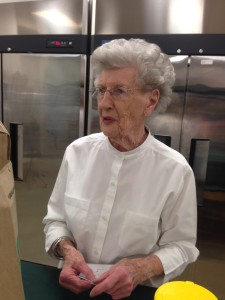 Gooley is 94 years old. She looks 20 years younger, is full of energy, zips about in jeans and sneakers. Age will not slow Gooley down, not here (where she is Wednesday team captain) or at Friendship Trays, where she volunteers every Monday.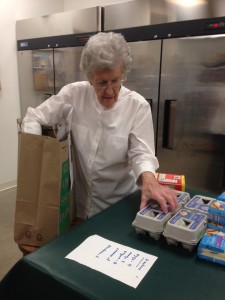 "I have never in my entire life been in a situation where there wasn't food on the table," she says. "…These people have nothing. If I can help them, it gives me gratification."
Says pantry coordinator Sarah Lofton: "Sue is the most dependable volunteer in the world! She is always there, always on time, always on top of it."
Gooley lives nearby, still drives ("My children haven't taken away my keys yet"), loves her work at Loaves & Fishes, and encourages others to volunteer or make a donation.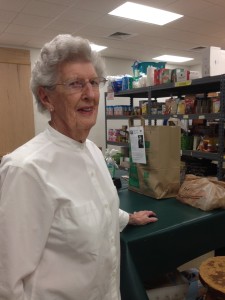 Thank you Sue for your dedication and years of service to the hungry in our community!