Loaves & Fishes/Friendship Trays Launches New Online Grocery Ordering Platform in Partnership with Instacart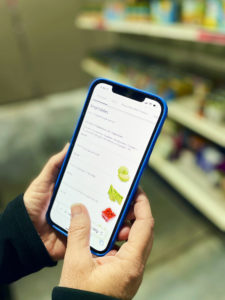 Loaves & Fishes/Friendship Trays has launched a new online grocery ordering platform in partnership with Instacart, a leading retail enablement company in North America. With this new grocery ordering website, food insecure families and individuals in Mecklenburg County are now able to choose nutritious foods that their families love and have them delivered directly to their door.
Previously, Loaves & Fishes/Friendship Trays clients received a pre-packed box of groceries for home delivery. With the launch of its partnership with Instacart, clients are now able to navigate to grocery.loavesandfishes.org to select their items and place their order for delivery. 
Begun in April 2020 in response to the pandemic, the Loaves & Fishes/Friendship Trays grocery delivery program has delivered to over 36,000 neighbors across Charlotte/Mecklenburg that are unable to pick up from a pantry due to health or transportation issues.
To help facilitate its new online grocery delivery program, warehouse space has been dedicated to house a pantry shopping area where volunteers serve as personal shoppers filling the online orders. The pantry is fully stocked via donations with healthy food options including fresh vegetables, fruits, proteins, grains and dairy. Instacart's Loaves & Fishes/Friendship Trays' ordering technology is powered by Instacart Platform, a suite of enterprise-grade solutions that help enhance and digitize retail experiences.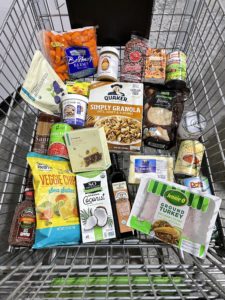 This summer, Loaves & Fishes/Friendship Trays saw a significant increase in the number of clients in need of food help, a 76% jump in August 2022 over August 2021. These numbers show that families continue to feel the impacts of inflation – higher gas prices, the soaring costs of rent, housing and grocery prices.
"We know that our clients have so many burdens that they're dealing with, and in a lot of ways their choices are limited." said Danielle Moore, Chief Operations Officer at Loaves & Fishes/Friendship Trays. "This new online grocery shopping experience gives our clients much more choice so they can select nutritious food that works best for their families."
"Before Covid, we were able to offer Client Choice shopping in our pantries. It was incredibly important to us to find a way to bring choice to our neighbors receiving groceries at home. Choice is all about dignity," said Tina Postel, Chief Executive Officer at Loaves & Fishes/Friendship Trays. "Shopping, whether online or in one of our pantries, for what you know your family will eat puts the love, dignity and human connection back into our grocery bags."
This spring, Mecklenburg Co. Commissioners unanimously approved $2.9 million in American Rescue Plan Act (ARPA) funding for COVID relief for the expansion of the Loaves & Fishes/Friendship Trays grocery delivery program.  The funds will be used to increase deliveries from 3 days a week to 5 or 6 days a week and expand the online ordering platform.
"With this funding we expect to feed even more people this year, and the expansion will help to give clients a dignified shopping experience as well as reduce food waste." adds Moore
"At Instacart, our mission is to create a world where everyone has access to the food they love and more time to enjoy it together," said Laura Anderson, Director of Social Impact at Instacart. "Today, we're proud to partner with Loaves & Fishes/Friendship Trays to provide the technology that makes it possible to give families and individuals more choice and dignity when it comes to accessing nutritious food. We believe grocery delivery should be for everyone and we're inspired by the work that Loaves & Fishes/Friendship Trays has been done to increase food access across Mecklenburg County."
The effort came about through a brainstorming session with local CIOs including Kroger.  "When Loaves & Fishes/Friendship Trays came to us with their dilemma in April 2020, we were happy to help them find a solution," said Jim Clendenen, Vice President, Enterprise Retail Solutions for Kroger. "We started talking about the importance of empowering their clients through choice and home delivery – Instacart immediately came to mind. I'm so excited to see how this collaboration will serve the Charlotte community."
About Loaves & Fishes/Friendship Trays
Loaves & Fishes/Friendship Trays provides nutritious groceries through a network of emergency food pantries and healthy, prepared meals as the primary Meals On Wheels program in Mecklenburg County. It is our mission to nourish our neighbors with food and compassion. For more information, visit www.loavesandfishes.org
About Instacart
Instacart is a leading retail enablement platform that works with grocers and retailers to transform how people shop. Today, Instacart partners with more than 750 national, regional and local retail brands to facilitate online shopping, delivery and pickup services from more than 70,000 stores across more than 5,500 cities in North America. Millions of busy people and families turn to Instacart to get the groceries they need from the retailers they love, and more than 600,000 Instacart shoppers pick, pack and deliver orders for customers on their own flexible schedule. The Instacart Platform offers a suite of enterprise-grade technology products and services to power e-commerce, fulfillment, in-store, ads and insights for retailers across the U.S. and Canada. Hundreds of retailers partner with Instacart to power their e-commerce experiences across the Instacart App and their own white-label sites and solutions. With Instacart Ads, thousands of CPG brands partner with the company to connect directly with consumers online. For more information, visit www.instacart.com/company, and to start shopping, visit www.instacart.com. For anyone interested in becoming an Instacart shopper, visit https://shoppers.instacart.com/.
###