Charlotte Hornets Foundation Awards $25,000 Hunger Grant to Loaves & Fishes/Friendship Trays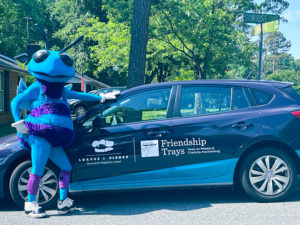 June 14, 2022 – The Charlotte Hornets Foundation announced today that it has donated $25,000 to Loaves & Fishes/Friendship Trays, Inc. as its annual Hunger Grant. The donation was made to help the Mecklenburg County-based organization purchase a new vehicle for its robust Meals on Wheels program.
"Loaves & Fishes/Friendship Trays is an incredible organization that has been ensuring all residents across Charlotte have access to nutritious food for decades," said Hornets President & Vice Chairman Fred Whitfield. "We are pleased to have the opportunity to support Loaves & Fishes/Friendship Trays with purchasing a new vehicle, which we hope will enable them to transport even more meals and groceries to our neighbors in need."
Previously two leading hunger-fighting organizations in the Charlotte area, Loaves & Fishes and Friendship Trays merged in early 2021 to strengthen their capacity to tackle all the facets and phases of food insecurity in Charlotte through a network of food pantries, plus home grocery and meal delivery services. By increasing access to fresh, healthy food, Loaves & Fishes/Friendship Trays aims to make sure that everyone's hunger needs are met in the way that they need it. Last year alone, Loaves & Fishes/Friendship Trays provided groceries to more than 75,000 people and delivered nearly 120,000 meals.
"We are very thankful for the generous donation from the Charlotte Hornets Foundation," said Loaves & Fishes/Friendship Trays CEO Tina Postel. "Delivering food to those who are unable to obtain or prepare their own meals is so important, and this vehicle will help us reach even more individuals in the Charlotte community. Our Meals on Wheels program is about so much more than just the food – it's also about providing human connection to the isolated and lonely and peace of mind to their families."
Photos of the new vehicle can be found at the following link: Hornets Hunger Grant.
About Hornets Sports & Entertainment
Hornets Sports & Entertainment owns the Charlotte Hornets, Greensboro Swarm and Hornets Venom GT, and operates Charlotte's Spectrum Center.  The Charlotte Hornets are a member of the NBA's Southeast Division.  Owned by NBA Legend Michael Jordan, the Hornets organization strives to deliver a relentless attack on the court, an unmatched experience in the stands and a positive impact throughout the community.  The name of the city's original NBA team from 1988-2002, the Hornets moniker returned to Charlotte in May 2014, uniting the rich history of NBA basketball in the Carolinas.  The Greensboro Swarm are the NBA G League affiliate of the Charlotte Hornets and play at the Fieldhouse at the Greensboro Coliseum Complex.  Hornets Venom GT is the organization's esports team affiliate that joined the NBA 2K League in 2020.  Spectrum Center is the premier destination for sports and entertainment in the Carolinas, hosting over 150 sporting events, concerts and family shows annually.  For more information, please visit hornets.com, gsoswarm.com, HornetsVenomGT.com or spectrumcentercharlotte.com.
-hornets.com-
For More Information Contact:
Josh Rosen, Senior Director of Corporate Communications, Hornets Sports & Entertainment, 704-688-8863, jrosen@hornets.com