With Every Box Delivered, A Family Is Fed
Dear Loaves & Fishes Friends,
It has been a couple of weeks since our last update but things haven't slowed down at Loaves & Fishes! For one, our home delivery program continues to grow, reaching even more neighbors in need, neighbors like Erica. You can find her story below.
We have much to share so let's get started!
Mobile Pantries, Home Delivery and Pop Up Food Shares:
To bring you up to date, last week, we provided a week's worth of groceries to 1,912 individuals (694 children and 134 seniors) through our mobile pantry operations and home deliveries.  Additionally, we served 152 households (626 people) through two different Pop Up Food Shares at the Assistance League and the McCrorey YMCA.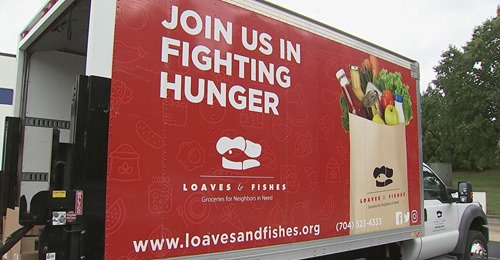 WSOC-TV reporter Gina Esposito did a really nice news story after visiting the Food Share at the Assistance League. Be sure to check it out here.
With every box delivered another family is fed. Erica's Story
On Wednesday, 19 volunteers delivered a week's worth of groceries, produce and dairy to 139 home bound individuals. One of those was Erica.
We met Erica at a one of our Pop Up Food Shares held at the Johnston YMCA in NoDa. Erica has a medical condition and her husband couldn't get away from work so when her ride to the food share fell through, she took a city bus from her extended stay motel to catch the light rail and then took another bus in order to pick up a box of produce at the food share. Thankfully, she shared her situation with us so we could call on our partners at Lyft to give her a ride home. We then told her about our new home delivery program. She was so overwhelmed she begin to cry.
We were able to deliver a full week's worth of groceries straight to her doorstep so that she and her husband won't have to worry where their next meal will come from.
Expanding our Programs and Outreach: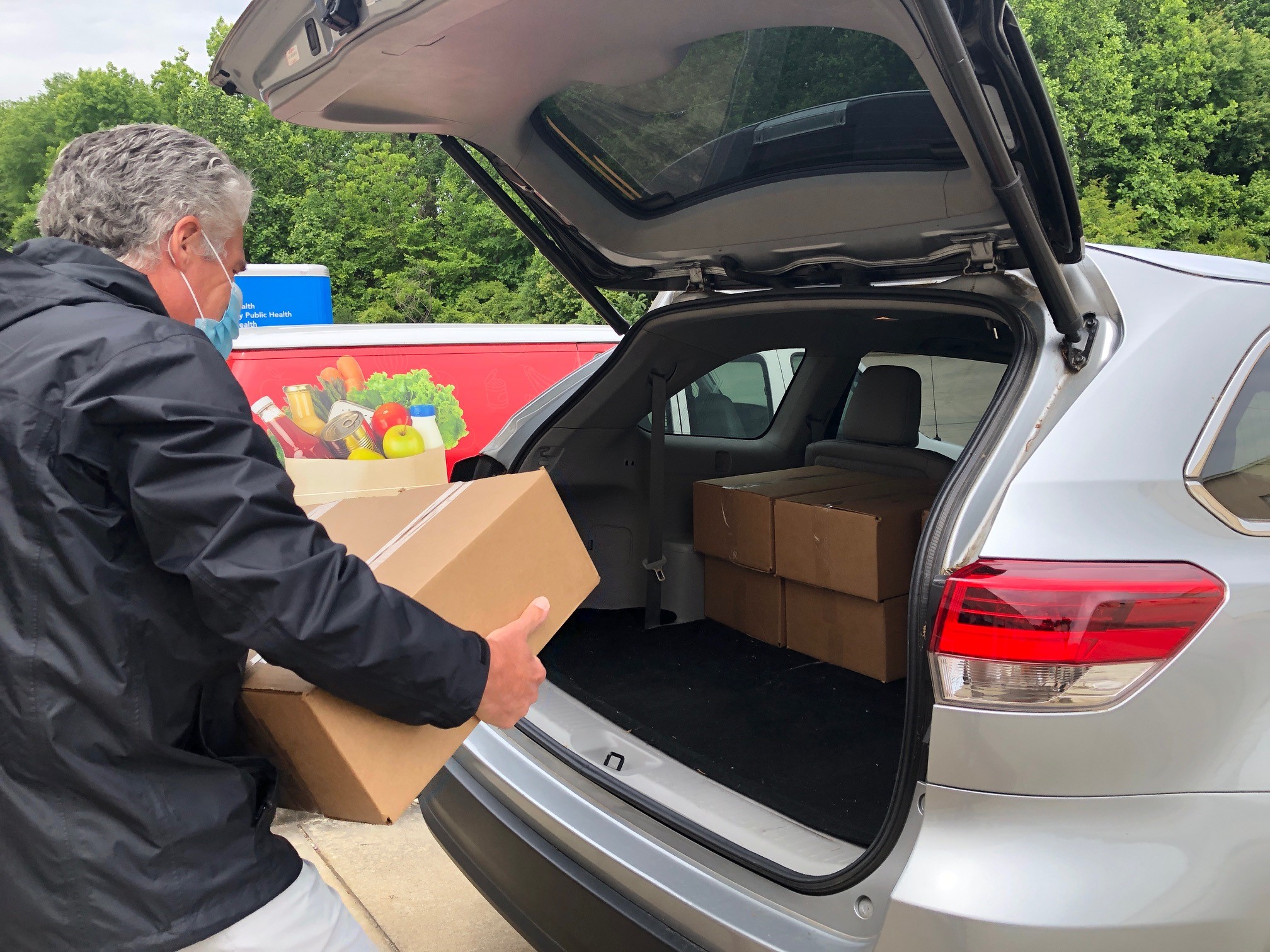 With no immediate end to the COVID 19 pandemic in sight and the continued high demand for food assistance, we have been proactively planning with our strategic partners on ways to expand our programming and outreach.  Thanks to a generous grant opportunity through the CARES ACT with Mecklenburg County, we are working on plans to improve our food insecurity outreach.  The grant funding would cover costs for several capital expenditures, temporary personnel additions and programming expenses that would allow us to expand our food insecurity programming especially among Food Shares and the Home Delivery Program.
The first step in this expansion is the creation of a new Community Outreach Director position.  Please help me congratulate Danielle Moore on her promotion to our newly created position of Community Outreach Director!  Danielle will transition immediately over to our Operations team to develop, oversee and expand our programs outside of regular pantry operations such as Home Deliveries and Food Shares.  Hers is the first of many new programming personnel we will be adding temporarily to expand our reach and provide improved access to healthy foods in high need areas especially during this COVID 19 crisis.    Danielle started with us in 2018 as the Food Drive and Volunteer Coordinator following the completion of her Master's Degree in Public Health from UNCC.  She completed a summer internship with Loaves & Fishes the summer before that while working towards her degree.  Congratulations Danielle!  Danielle's move into this new role opens a full time position for our Food Drive and Volunteer Coordinator.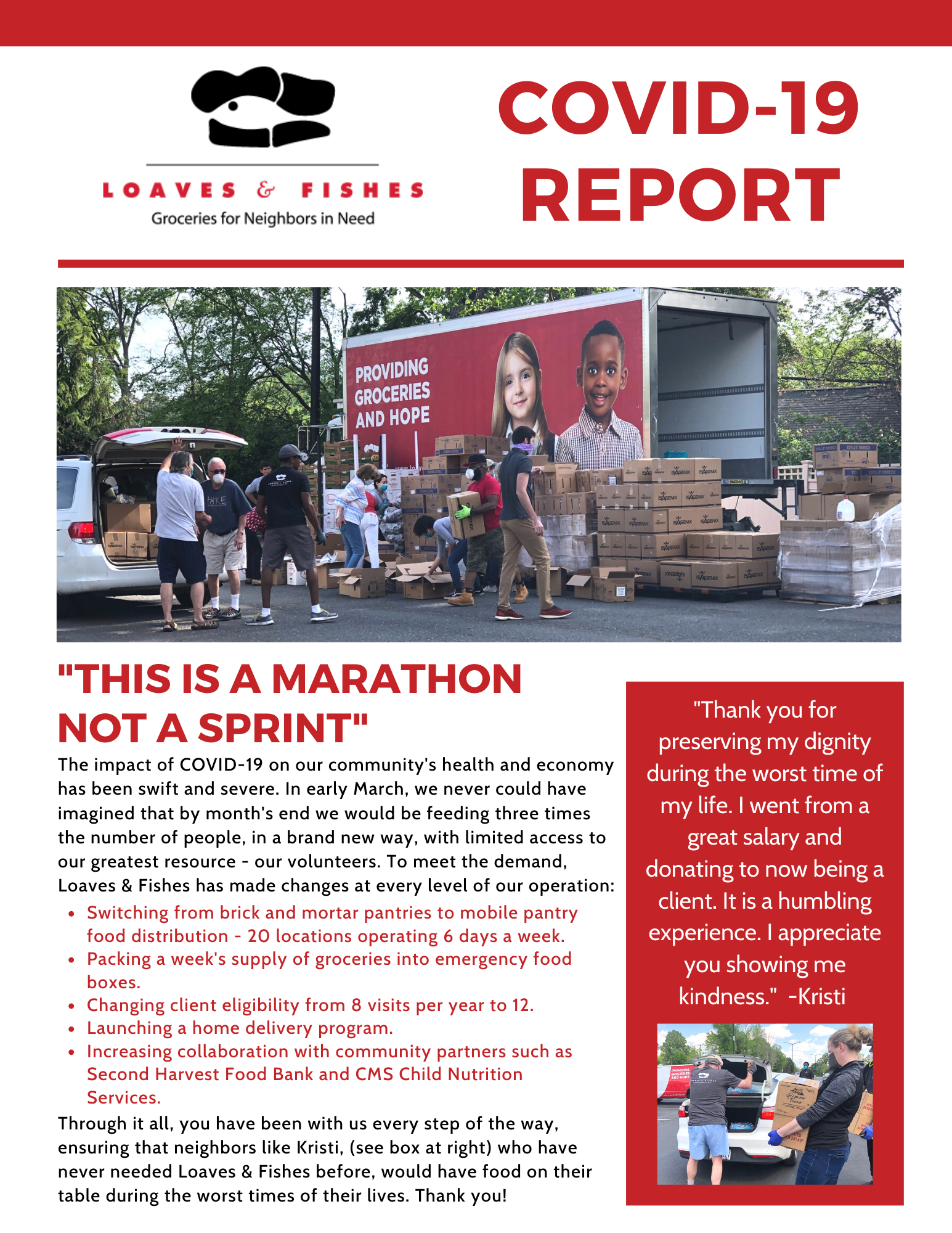 I hope you had had a change to read our COVID 19 Report which briefly highlights the changes COVID has brought to our operation in order to feed almost triple the number of neighbors in need. Read it here.
Shop for Good
SHARE Charlotte's Give Shop makes it easy to donate items we need most – like these sturdy reusable grocery bags. We often have walkers or bus riders who come to our mobile pantries with only a small back pack or nothing at all to carry a week's worth of groceries. These bags make all the difference! To purchase this item or others on our Amazon Wish List, visit https://bit.ly/3j3nPVq. Thank you for shopping for GOOD, CLT!! #shopforgoodclt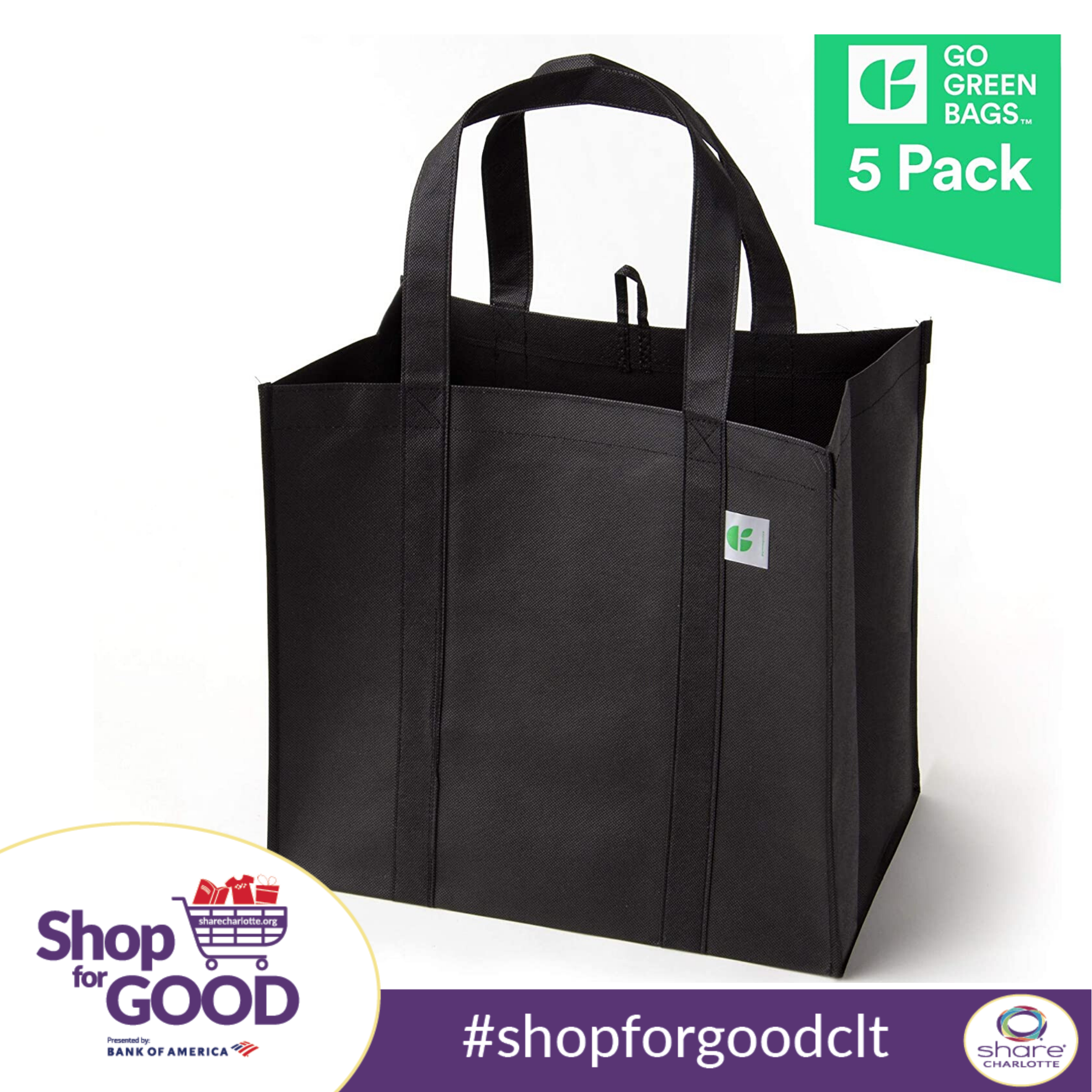 We are so grateful to our friends at the County who believe in our mission at Loaves & Fishes and trust our leadership to make sure that no neighbors in need in our community have to go to bed hungry!  Let's feed some people!
In Service,
Tina Postel
Executive Director, Loaves & Fishes