Providence Spring Elementary, winner of the Publix "Can Do" Food Drive, wanted to "Share the Love" and donate part of their winnings to 3 very deserving schools!
What started out as a food drive challenge to feed the hungry in our community has become an amazing story about the generosity of one CMS school and its desire to impact three other schools.
Providence Spring Elementary raised over 11,000 pounds of food as part of the Publix "Can Do" Food Drive Challenge to benefit Loaves & Fishes.  As the school who raised the most food, they have won $15,000 prize money to buy playground equipment.  Providence Spring  decided to take the kindness and giving spirit exhibited by their students and "share the love" with smaller schools that also participated in the food drive: Reid Park Academy, Walter G. Byers and Westerly Hills Academy.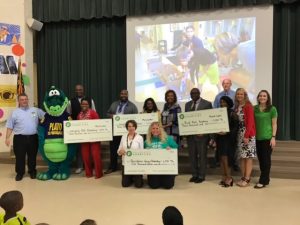 On March 1, Loaves & Fishes Executive Director, Tina Postel and Publix Media and Communications Manager Kim Reynolds, along with the Publix mascot "Plato the Publixaurus", were there to present checks to representatives from the schools at an assembly of the 940 Providence Spring students and staff. This is where the students found about the contest for the first time!
As Lindsay Wyatt, PE Teacher at Providence Spring tells us, "We made the decision to keep the contest under wraps, to be sure the students focused on the true reason why we were helping their community, and not make it all about winning a contest. To our surprise, without knowing about the contest, students, parents, and teachers, brought in more food this year than any other year since PSE opened in 2002!  11,139 lbs. to be exact!  That alone is remarkable! A couple months later we received a phone call from Loaves and Fishes saying that PSE had won first place out of the 71 CMS schools that participated.  We were blown away because the prize was $15,000! Shocked and overwhelmed we thought about the true meaning of why we do Loaves & Fishes, and about one of our pillars, which is character, and decided that we wanted to share our winnings."
Last fall, Loaves & Fishes was awarded a $20,000 grant by Publix Super Market Charities for the "Can Do" Food Drive Challenge.  Providence Spring Elementary won the challenge by collecting 11,139 lbs of food with the two runner up schools, Carmel Middle (3,892 lbs) and Eastover Elementary (3,698 lbs), receiving $2,500 each also for playground equipment.
71 schools participated in the "Can Do" Food Drive Challenge collecting a total of 83,435 lbs of food for Loaves & Fishes. This is food that we depend on to help provide a week's worth of groceries to the 70,000 people we feed each year. 48% of our clients are children and a number of referrals come from school counselors.