A Journey For All of Us – Devonne's Story
Devonne Moise firmly believes there are guardian angels in place to remind you to keep your head up. She also believes that her guardian angel's name is Faye.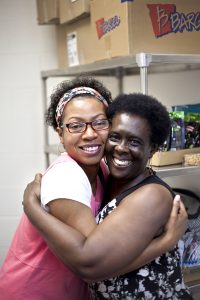 At one point, Devonne and her children were living in a hotel. She felt fortunate when she found a small house to rent but it didn't take long to realize she was living in what she refers to as a "horror house". Even though the house was falling apart, the landlord wouldn't fix anything; there were drug dealers nearby and she was afraid for her children to go outside. But it was all she could afford. Add in utilities, grocery bills plus all the things growing kids need and she realized she needed help.
Having worked since she was 13, Devonne wasn't comfortable asking for help. "I was private and prideful but I had to be strong for my kids," she says. So she got a referral from her child's school and went to the Loaves & Fishes pantry run by Mt. Carmel Baptist Church.
Going inside the pantry was tough. She was on the verge of tears but kept thinking, "I am not a bad person because I need food." Sensing Devonne's distress, Loaves & Fishes volunteer Faye Wright came over and gave her a hug. Faye whispered in her ear, "It's okay. God has a plan."
Devonne was flooded with relief. "I remember her eyes. The way she looked at me, I just saw God and I knew my life would change." "30 minutes here can be life changing. Letting people see there is hope… it gave me something more than food, something that lasted much longer because it's still with me months later."
To her guardian angel, Faye Wright, Devonne says "thank you for pulling me up, for looking beyond my circumstances."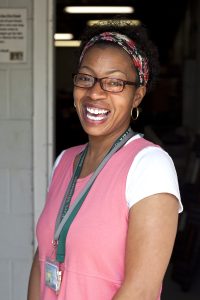 Today, Devonne runs the after school program for Jackson Park Ministries. Her children are happy, healthy and life is good. As Devonne says, "It's all about being sensitive to another person that is in a different place – it's a journey for all of us."