Loaves & Fishes and Lyft Join Forces With Pilot Program Addressing Transportation for Food Insecure Households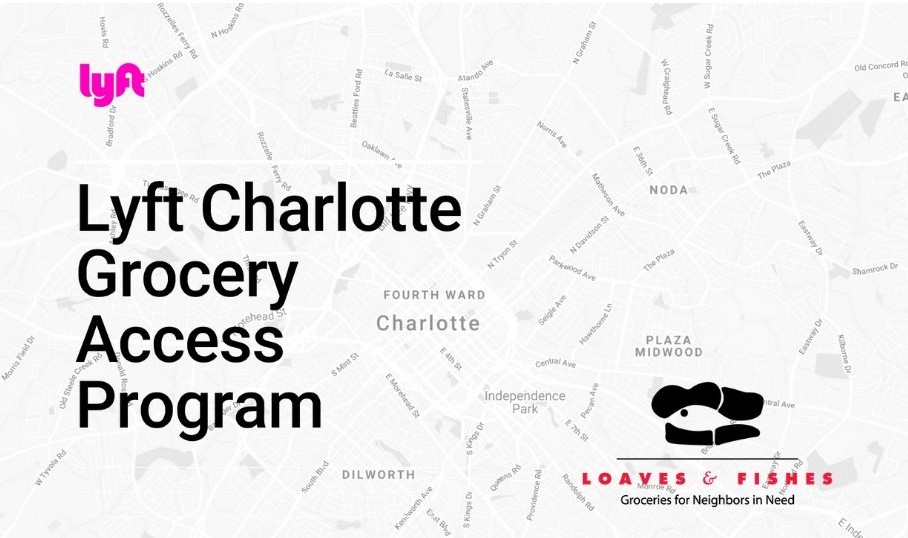 At Loaves & Fishes we have long known about the transportation issues our food insecure families face.  We are excited to announce that we are partnering with our friends at Lyft to work on a solution.  Lyft has begun a 6-month pilot program to provide 75 Charlotte families living in food deserts with subsidized travel to and from grocery stores, farmers markets and food pantries.
The Lyft Grocery Access Program teams Lyft, Loaves & Fishes and a group of community partners including the Food Policy Council, NC Alliance for Health, Second Harvest Food Bank, the City of Charlotte and UNCC, together to provide food insecure neighbors with greater access to healthy food.
Last year, the Lyft Grocery Access Program began with a successful pilot in Washington, D.C.,  providing thousands of affordable rides to grocery stores for local families, and has since expanded to more than a dozen cities across the country, to now include Charlotte.
Eligible residents living in the 28208 and 28216 zip codes and are burdened by a lack of transportation will receive $2 flat-rate fares on 8 rides per month – or 1 round-trip ride per week – to and from designated grocery stores and food pantries during the pilot (Aug 2019 – Jan 2020).
Learn more below.