Loaves & Fishes Shares Research that Shows Where Charlotte's Hungry Live
This year the Opportunity Task Force Report confirmed that for far too many in Charlotte, the dream of upward mobility remains just that….only a dream.  Their research shows that our long standing issues of racial and economic segregation has only deepened.
At Loaves & Fishes, we have been in the business of feeding our neighbors in need for over 42 years.  This year we launched a study in partnership with UNC Chapel Hill to see if our data correlated with the findings from the Opportunity Task Force.  We set out to determine where our neighbors in need were coming from.  Using our 2016 data from the 67,509 people we fed UNC Chapel Hill was able to show us, using GIS mapping technology from a zip code standpoint clear down to a specific block, where our clients were coming from.
These maps show:
Total Client Visits by Zip code
Total Client Visits by Census Tract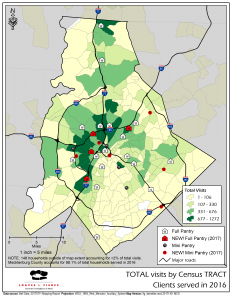 Total Children Client Visits by Census Tract: (48 % of our clients are children)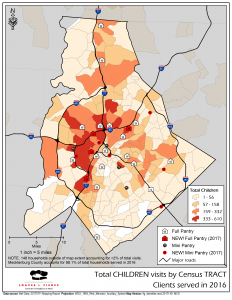 So what does this data tell us?  What does it drive us to do?  How can Loaves & Fishes be a part of the reality for social mobility for our neighbors who are stuck?
What the data shows us is that despite our overall healthy economy and rapid growth in Charlotte, we are seeing a spike in need for those individuals and families stuck in lower income brackets.  Loaves & Fishes is on pace to feed 10%-14% more people in 2017 than we did just one year ago.  By year's end we are on target to feed anywhere from 74,000 to 77,000 hungry neighbors.   To address this increased demand we have opened four new full size pantries in specific high need neighborhoods. (A Full Size pantry provides a 7 day supply of groceries for each member of the household.)
In addition to the full size pantry openings, we have begun a new partnership for the first time in Loaves & Fishes history.
No one would argue that one of the best ways to improve your social and economic situation is with a quality education.  Our community has big aspirations for our future….We are a community that cares about our children, youth and future leaders—-regardless of race, income or zip codes—-we want everyone to be able to succeed.
BUT how in the world do you plan for success and a brighter future if you can't even plan for your next meal?
Therefore, we have been thrilled this year to partner with our local higher educational institutions at Central Piedmont Community College, Johnson C. Smith University and the University of North Carolina Charlotte  to ensure that any of their students facing hunger issues can have their food insecurity needs met right on their college campuses.
These maps show where five new emergency food pantries have been opened this year on the campuses of Johnson C. Smith University, UNCC and 4 Central Piedmont Community College campuses. The final two CPCC campuses will open pantries in 2018. These pantries will provide students with a two-day emergency supply of groceries until they can get to a full size Loaves & Fishes pantry for a seven-day supply. 
At Loaves & Fishes, our specialty is providing food to our neighbors in need, but as the results of our annual client survey clearly demonstrate, our services do so much more that fill bellies.  Clients were surveyed in Loaves & Fishes' pantries during the month of October.
Over half of our clients surveyed (52.7%) said that because they received groceries from us, they can now use the money that they saved to pay rent
26% said they can now use the money saved to pay electric or utility bills
15% can now pay for needed medication
More than food and more than money saved however, the most compelling results of our efforts perhaps come from our clients' verbatim responses of what Loaves & Fishes means to them.
Loaves & Fishes means:
•
Food for my kids to eat today.
•
Means the difference between going to bed hungry or full.
•
A lot because I know that my kids will not go to bed with an empty stomach. Thanks.
•
As a single mother being able to feed my family is like winning a million dollars. I have children that look up to me and this is important.
•
A place where people can get help and understanding when needed.
•
A way to feed my kids when I can't.
•
Everything!
•
It means LOVE! I'm greeted with smiles and never judged.