Behind Every Bag There Is A Story
It all happens so quickly. Your child is sick and you need to take a couple of days from work to be with her. It takes longer than expected and suddenly you're out of sick days, finding yourself having to do without a paycheck or two. Medical bills and living expenses start to add up. You find yourself looking for a miracle.
So often that's how it happens. A sick child, a cancer diagnosis, a lost paycheck. There are hundreds of reasons why someone may find themselves with no food in the house and no idea where their next meal will come from.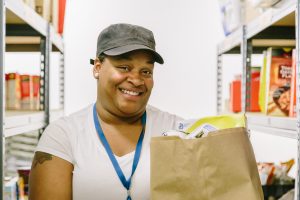 Teneille knows this first hand. She drives a school bus for a living but when her two-year-old daughter developed pneumonia, she missed almost a month of work. She ran out of sick days and with mounting medical bills, quickly realized she needed help.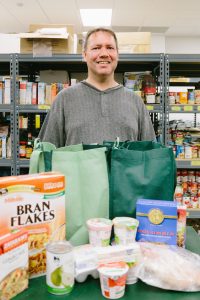 A few years ago, a colon cancer diagnosis stopped Bob in his tracks. Thankfully, today he is a cancer survivor but lingering symptoms have prevented him from working. He tells us his income is pretty low and the limited amount of food stamps he receives sometimes isn't enough to get by. "You never know what someone is going through. Even though I had a job, things happen."
Teneille and Bob are two clients we met on the same day a Loaves & Fishes food pantry. Thanks to you, Teneille, Bob and thousands of others in Mecklenburg County won't have to worry where their next meal will come from.
You are part of the story of every bag of groceries in the arms of someone who is looking for a miracle.
Bags filled with a week's worth of nutritionally balanced groceries to feed hungry neighbors in need. As Teneille tells us, "It was very scary but my children won't be hungry since I wasn't able to provide." That's the miracle of Loaves & Fishes.