It's So Much More Than Food – Meet Georgette and Lynne
We recently sat down with Georgette and Lynne, two wonderful, resilient women and were struck by the words they used to describe how they felt when they received their food from Loaves & Fishes/Friendship Trays.
We had just delivered a week's worth of groceries to Georgette through our home grocery delivery program and a nutritious mid-day meal to Lynne through our Meals On Wheels program. Each used words such as love, hope, security, connection, a life-saver.
As you read their stories, you will learn just how much your support means. It goes beyond a bag of groceries or a healthy meal. It is providing peace of mind that there will be nutritious food on the table for a family. A sense of safety and connection from a meal delivery
Georgette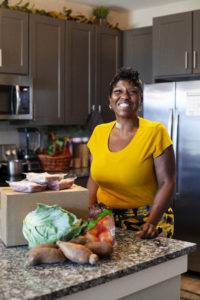 It was an emotional phone call. When Georgette received her first grocery delivery she knew she had to pick up the phone and call. With her voice breaking she shared, "This has been a rescue for me.
I thank God for your organization."
Georgette is a self-described workaholic whose unexpected illness had her at a standstill. Doctors were hopeful that with a nutritious diet, she could control her glucose levels. After a hospital stay kept her out of work, the bills began to pile up, rent had increased and food prices were soaring. The end of each month was a struggle to make ends meet. Her doctor made a referral to Loaves & Fishes/Friendship Trays for a week's worth of groceries delivered directly to her door.
She wanted to make sure that everyone knows that the food referrals are keeping her afloat. "You never know what people are going through. You don't wake up one morning and say, 'I want to be sick.' I have never needed help before and I never thought it would be me."
Lynne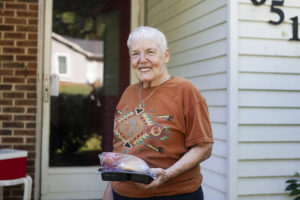 Lynne takes great pride in showing off her flower garden, flowers she says she had the energy to plant thanks to nutritious meals from Loaves & Fishes/Friendship Trays.
"It's more than food. It brings me peace of mind knowing that I'm going to eat good food today. The grocery store is only two miles away but for me it might as well be 200." said Lynne.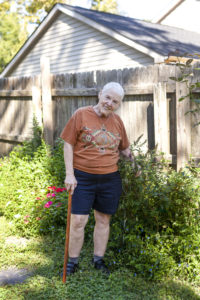 She shares that having limited mobility can be very isolating but the friendly knock at her door or check-in call from a volunteer gives her a sense of safety and security. It makes all the difference to know she has a back up.
The daily healthy meals have helped her lose 20 lbs and lower her blood pressure. She not only has more energy but also less worry, which she says has given her a better quality of life.