Beverly Howard, Retiring Executive Director of Loaves & Fishes Receives The Order of the Long Leaf Pine
 In 28 years, over 1.7 million hungry people in Charlotte-Mecklenburg have been fed because of Beverly Howard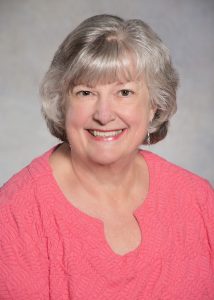 Honoring 28 years of fighting hunger and poverty in Charlotte-Mecklenburg, Loaves & Fishes Executive Director, Beverly Howard has been awarded the Order of the Long Leaf Pine, among the most prestigious awards given to a citizen in the state of North Carolina. The award was presented May 24 at her retirement luncheon, in Jubilee Hall of Myers Park United Methodist Church. The award recognizes Beverly's extraordinary service to the community and her significant impact in fighting hunger. Beverly's last day as Executive Director will be Friday, May 27.
Charlotte Mayor Pro Tem, The Honorable Vi Lyles also issued a proclamation declaring Tuesday, May 24 as Beverly Howard Day in Charlotte.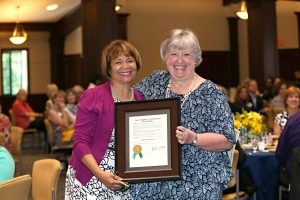 The Order of the Long Leaf Pine is presented to individuals who have a proven record of extraordinary service to the State of North Carolina and the community that is above and beyond the call of duty. The award is granted to citizens who stand out in their communities and who have devoted their lives to serving others making a significant impact.
Under her leadership as Loaves & Fishes' Executive Director, Howard has guided the nonprofit emergency food pantry program into a national model, serving as the largest pantry program in North Carolina.
When Howard became executive director in 1988, the agency had 6 food pantries serving 20,000 people a year. Today, Loaves & Fishes has grown into a network of 20 food pantries, located throughout Mecklenburg County, that last year provided a week's worth of groceries to over 71,000. 48% were children.
At the height of the recession in 2012, that number peaked to a record 126,803 people fed. At no time during her 28 years leading the organization, has a single person been turned away due to lack of food.
Howard has served as a resource outside of the Mecklenburg community as well. She has mentored countless representatives of organizations who have travelled from all over the United States to learn from her how to replicate the Loaves & Fishes model in their own communities.
Always putting the dignity of clients first, in 2011, Howard brought a new model to Loaves & Fishes called Client Choice. Instead of receiving a pre-bagged supply of groceries, clients are provided a grocery store experience, choosing from a nutritionally balanced shopping list the foods they know their families will eat, promoting dignity and reducing waste.
Prior to Loaves & Fishes, Howard served as the Executive Director of Friendship Trays in Charlotte.  A founding member of the Unity Against Hunger and Poverty group in Charlotte, Howard also served as President of the Women's Executive Director's Network, and as a member of the national board of the National Association of Meal Programs. She is an active member of Bread for the World and has made several trips to Washington D.C. to lobby on behalf of hungry people in this country and abroad.
Howard was the recipient of the 2005 9th Congressional District Legacy Award, the 2010 Charlotte CROP Hunger Walk Weenie Daniel Award, and was named a 2011 Women in Business Achievement Award winner by the Charlotte Business Journal. She was a recipient of Mecklenburg Ministries' Community Leader Award in 2013.
Beverly Howard is respected throughout Charlotte Mecklenburg as a community collaborator and tireless advocate, an effective leader and a strong and compassionate voice for those less fortunate.
In 28 years, 1.7 million hungry people in Charlotte-Mecklenburg have been fed because of Beverly Howard.
Click here for photos from the luncheon:
https://loavesandfishes.org/galleries/beverly-howards-retirement-luncheon-may-24-2016/
Loaves & Fishes provides a week's worth of nutritionally balanced groceries, free of charge, to families and individuals experiencing a short term crisis. Through a network of 20 food pantries located throughout Mecklenburg County, Loaves & Fishes fed 71,766 people in 2015. 48% were children.