March is National Nutrition Month – Food, Nutrition and Health Tips
What is National Nutrition Month All About?
National Nutrition Month is celebrated every year in March by the Academy of Nutrition and Dietetics. Each year it is given a different theme but it's focus remains on the importance of making informed food choices and developing nutritious eating and physical activity habits. The theme for National Nutrition Month 2020 is Eat Right Bite by Bite. The overall message of this theme is that quality nutrition does not involve restriction from specific food. Small, healthy and nutritional changes to the diet are key when trying to transition to a healthy lifestyle.
How is Loaves & Fishes Celebrating #NationalNutritionMonth?
At Loaves & Fishes, we believe that access to nutritious food is a fundamental human right. We want our clients to have access to healthy, nutritious food, not just be merely fed. With the help of a registered dietitian, clients shop from a nutritionally balanced shopping list. To help with preparing meals , we are providing recipes to our clients that they can prepare using items commonly found in the pantry. Many of these recipes include food items offering essential nutrients needed for proper growth, development and disease prevention. Some of these food items include:
Beans – Great source of protein and fiber
Fresh produce – provides vitamins and minerals needed for daily functions
Whole Grains – Reduces the risk of heart disease and diabetes
The recipes are not only nutritious but also delicious and satisfying to our clients! It is important to Loaves and Fishes that we provide nutritious groceries to our neighbors and encourage them to make healthier choices one bite at a time!
Some health tips suggested by the Academy of Nutrition and Dietetics are:
Eating breakfast
Make half of your plate fruits and vegetables
Be active
Eat with your family during meal time
Reduce added sugars
Drink more water
Cook more meals
Click here for a list of Food, Nutrition and Health Tips from the Academy of Nutrition and Dietetics:  20 Health Tips  for National Nutrition Month
Have you ever wondered what items we can use most in our pantries? Consult the Nutritious Foods to Donate Guide below: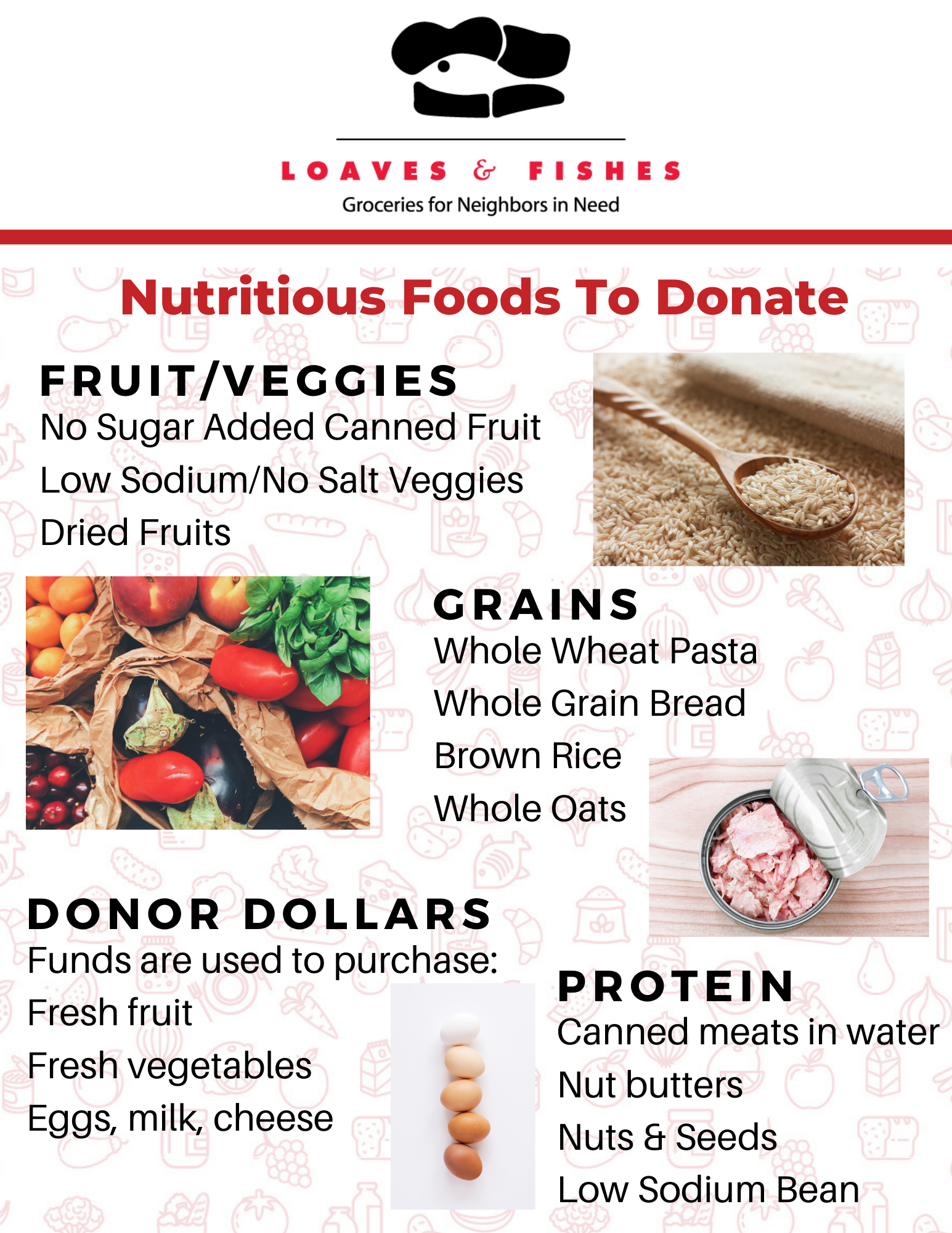 Taco Soup Recipe:
Ingredients
1 lb ground turkey
1 can of corn, no salt added
1 can of diced tomatoes, no salt added
1 can of garbanzo beans, no salt added/low sodium
1 package of taco seasoning or 3 tablespoons
2 cups of water
1 small onion (optional)
2 tablespoons of cilantro (optional)
Instructions:
Brown ground turkey. Add small onion and cilantro once browned
Add remaining ingredients.
Bring to a boil until soup becomes fragrant.
Bring to a low simmer and cover until soup slightly thickens.
ENJOY!