Loaves & Fishes/Friendship Trays Providing Groceries, Meals and Hope
When Tina Postel first came on board as Executive Director of Loaves & Fishes, she wanted to get to know the local nonprofits providing access to healthy food, so she reached out to Friendship Trays Executive Director Lucy Bush Carter. As the primary Meals on Wheels program for Mecklenburg Co., Lucy invited Tina to ride along on a meal delivery route. When they arrived at the home of an elderly grandmother they were met at the door by her 3 grandchildren.
As Tina shares, "I knew as soon as I handed over the tray that this grandmother was going to divide her meal up among her grandchildren. Meanwhile, I was sitting on a warehouse full of apples, oranges and milk that I could have brought along."
For Tina and Lucy, a lightbulb went off and the rest, as they say, is history. The two began to put their heads together on how best to collaborate and in May of this year, it became official with the merger into one organization – Loaves & Fishes/Friendship Trays – providing groceries, meals and hope.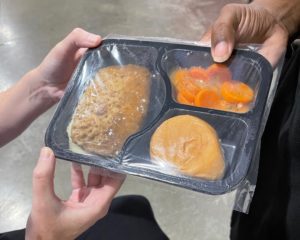 It is thanks to your generous support that we are growing every day to feed more people healthy, nutritious meals. Those we serve continue to be impacted by the pandemic. In response, our daily meal delivery and home grocery delivery programs, as well as mobile pantry food distribution, have doubled in order to meet the need.
It is your support that makes an impact on the lives of the neighbors who need you.