The Genesis of A Much Bigger Movement
President George H. W. Bush delivered the call to service in his inauguration speech in 1989 and reinforced the idea often during his presidency.  "We can find meaning and reward by serving some higher purpose than ourselves, a shining purpose, the illumination of a Thousand Points of Light.. . . We all have something to give." His remarks harken back to JFK's command to "Ask not what your country can do for you.  Ask what you can do for our country."  Two of our country's presidents, from opposite sides of the political fence, asking us to commit to give back to the country that has given so much to so many and to invest in the communities where we live.  Martin Luther King said it, too.  "Anyone can serve. . . . All it takes is a heart full of grace  . . .  and a soul generated by love."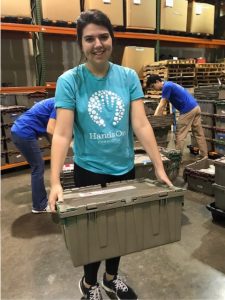 This is Volunteer Appreciation Week.  It is the time nonprofit agencies salute and honor the people who give their time, energy and spirit to support nonprofits in the community.  Volunteers come from all over.  There are volunteers who are retired and want activities to anchor their new routines.  There are people assigned community service for traffic violations and minor offenses. There are people who are between jobs and want to stay busy. There are students whose curriculums may require 20 to 30 community service hours each school year.  There are congregations of faith that volunteer as a group or family activity.
Perhaps volunteering is the genesis of a much bigger movement.

When we are sorting or packing or building or cleaning, everything is not about us.  It is about others.
I became a volunteer because my parents were volunteers. It is a hobby and a commitment.  I think of volunteering is a privilege that does much more for me than for the agency to which I give my time.  I have met the best people, had terrific conversations where I learned new ideas,  made connections that led to employment opportunities, had a great workout without it being my intent. Every time I volunteer, when it is over I feel better about myself and the state of my community and the world than I did when I started.  When we volunteer, we exercise our right to be stakeholders in our community.  We are part of the process of using community resources to address a community issue.
Perhaps volunteering is the genesis of a much bigger movement.  When we are sorting or packing or building or cleaning, everything is not about us.  It is about others.  It can be a generous, selfless moment when we are at our best.  And if we can remember that feeling and keep seeking it in our daily activities—to paraphrase Dr. Seuss, "Oh, the places we could go!"
Shay Merritt, Volunteer and Food Drive Coordinator for Loaves & Fishes