I AM A DENTED CAN… Confessions of a Flawed Giver
I have participated in numerous food drives in my lifetime prior to working at Loaves & Fishes.  My standard operating procedure whenever my kids' school, local boy scout troop, letter carrier or church was in need of food was to scour through my pantry to donate the cans of my least favorite items collecting dust on the shelves.  I saved the bulk of the "good stuff" for myself and my family.  I always participated but not as generously as I could.  I figured someone who was hungry would just be happy to have food regardless of the item.  "Beggars can't be choosers" was my ignorant thought process.
Putting a face on hunger changed me.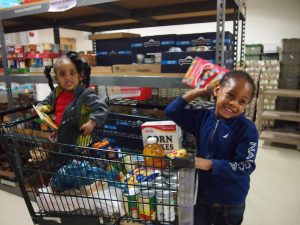 On a recent visit to one of our Loaves & Fishes pantries, I watched a young mother shop our pantry with her 3-year-old son.  The little boy in the cart began bouncing excitedly when he saw a box of his favorite cereal complete with cartoon characters and marshmallow yummies sitting on the shelf among boxes and boxes of unsweetened cornflakes.  He pointed and shouted until his mom selected the box and handed it to him.  He then spent the next several minutes trying to open the box of sugary goodness while his mom continued shopping.  I asked his mom if I could open it for him so he could have a snack and she obliged.  Something about his smile and joy in this simple moment transformed my core.   While the generic cornflakes would have fed his empty belly, it would not have delighted his spirit.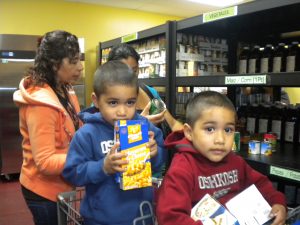 What I have learned in my short time here at Loaves & Fishes, is that food is so much more than food.  Yes, hungry people, if hungry enough, will eat just about anything but we are in the business of nourishing souls as much as tummies.  On a recent survey, clients were asked what Loaves & Fishes means to them.  Their responses were:
"A Blessing."
"Hope."
"Everything." 
"It means the world to me."
 Throughout the world, meals signify togetherness and fellowship.  Most celebrations of any kind include the breaking of bread together.    Many of us can fondly recall a favorite meal, recipe or sweet treat from our childhood.  To this day, the sight or smell of lemon cake conjures up loving memories of my grandmother.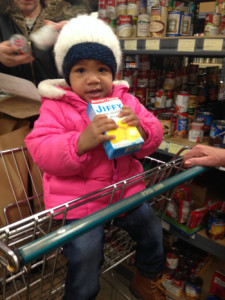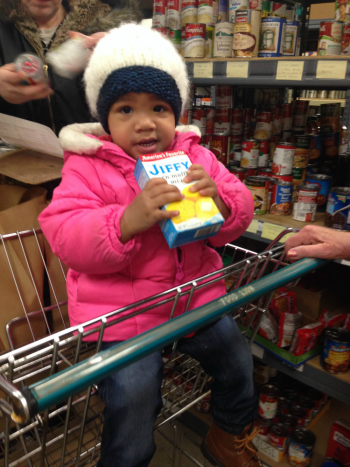 So why the mea culpa confessional about my lackluster food drive past?
So why the mea culpa confessional about my lackluster food drive past? When I came face to face with people shopping in our pantries, grateful for the fully stocked shelves or excited when we had their child's favorite cereal available it opened a new door of generosity from within me that was once closed before.  At the same time, it served as a shameful reminder of times previously when I could have been more generous or compassionate to those in need.
I am a dented can with flaws of judgement and preconceived notions.  Acknowledging those errors and educating myself on the true face of hunger is the first step towards ending food insecurity in our community.  Seeing that child's face and the face of everyone we serve inspires me to be a wholehearted, active participant in the fight to end hunger.  I remember that child's smile now when I purchase my family's favorite foods to donate in hopes that it brings another family the same fulfillment we get when we sit down to a meal together.
I would rather be a dented can with my imperfections visible to the world but filled with good stuff on the inside than to be a visibly flawless can with a name brand label with a spoiled spirit on the inside.  Food is a basic need and each of us is worthy of "the good stuff".  Thank you to the clients, volunteers and staff members at Loaves & Fishes for this blessing of enlightenment.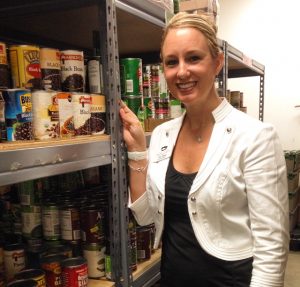 Tina Postel is Executive Director of Loaves & Fishes