A Holiday Madhouse (for which we are #grateful)!
On a rainy morning one week before Thanksgiving, three SUVs and a pickup pulled up to the back door of the Holy Comforter pantry.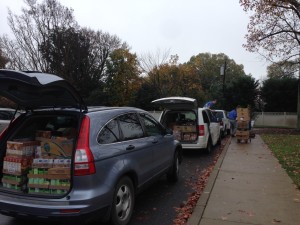 Workers from Mayer Brown, a global law firm with a Charlotte office, unloaded 3,000 lbs of food, while Loaves & Fishes volunteers scrambled to get it all in grocery carts.
It was a holiday madhouse.
There were 52 turkeys (40 donated by Harris Teeter), 52 hams and sides including pies, vegetables and foil roasting pans. "It will go right back out, into clients' hands," said pantry coordinator Sarah Lofton – and indeed, a long line of people snaked out the front door. One volunteer said she'd been working at the pantry for 15 years and had never seen anything like it.
Lofton worried if there'd be enough room for the bounty (there was, barely). It was given to provide Thanksgiving dinner to clients. Last year, Mayer Brown helped 70 families through its donation to Loaves & Fishes; this year, it hoped to increase that number.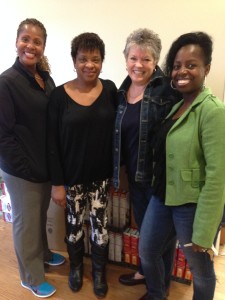 "We have so much fun doing this," said Mayer Brown's Sandra Adkins. For three years, Mayer Brown employees have reached into their pockets to make it all possible. This year, the roughly 50 employees in the Charlotte office raised $4,700 for the Thanksgiving feasts, up from $3,700 last year.  "People would give, and then come back and give some more," Adkins said.