What You Made Possible This Thanksgiving!!
Happy Thanksgiving from all of us at Loaves & Fishes/Friendship Trays! We wanted to share with you a snapshot of what you have made possible this past week.
Thanksgiving distributions began last Wednesday, November 17th and continued until late yesterday afternoon! Each number below represents a neighbor that will have a full plate this holiday thanks to your support.
Served through pantries and grocery home deliveries: 3,958 individuals
Served through food shares: 2,177 individuals
Served through meal delivery: 367 regular daily meal recipients plus 82 who needed additional holiday meals
TOTAL: 6,584 individuals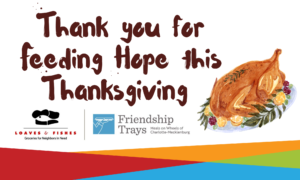 I was quoted in
The Charlotte Observer
this week saying "food is love, food is hope"….and I truly believe that. Love, hope and gratitude is what we see on our clients' and recipients' faces when we load up their car with food or deliver a meal or groceries right to their doorstep. You hear it in their voices when we answer their call for help over the phone. Food by no means solves some of the deeper, complex challenges people are facing but I do know a warm, healthy meal is always a good place to start.
My heart is full of gratitude thanks to the extraordinary volunteers and donors like each of you. Whenever, wherever more help is needed you roll up your sleeves and deliver. Pandemics and stalled supply chains are no match for your compassion and dedication.
Thank you, thank you, thank you!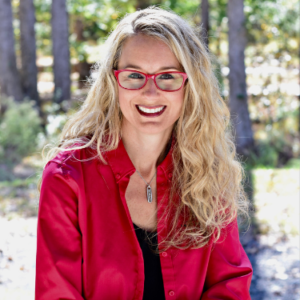 Tina Postel, CEO
Loaves & Fishes/Friendship Trays