Scouting for Food is Saturday, February 6
Saturday, February 6, the Mecklenburg County Council of the Boy Scouts of America will be Scouting for Food.  Scouts will go door-to-door throughout Mecklenburg County collecting non-perishable food for Loaves & Fishes.  Thanks to the 278,000 lbs of food collected in last year's Scouting for Food Drive, Loaves & Fishes was prepared when the pandemic hit in mid-March. Thanks to Scouting for Food, our shelves were full and saw us through the explosion in numbers of neighbors in need.
Priority needs include canned fruit (in fruit juice), canned meats, canned pastas and canned vegetables.  We are especially in need of low sodium, low fat and low sugar items. No glass items please! 
The week prior to Feb. 6, Mecklenburg Co. Boy Scouts will distribute Scouting for Food printed Door Hangers (see example below), generously provided by Harris Teeter, in neighborhoods throughout the county.  If you receive a door hanger, simply fill a bag or box with non-perishable food items and leave outside your home by 9:00 am for pick up by the Scouts on Saturday, Feb. 6th.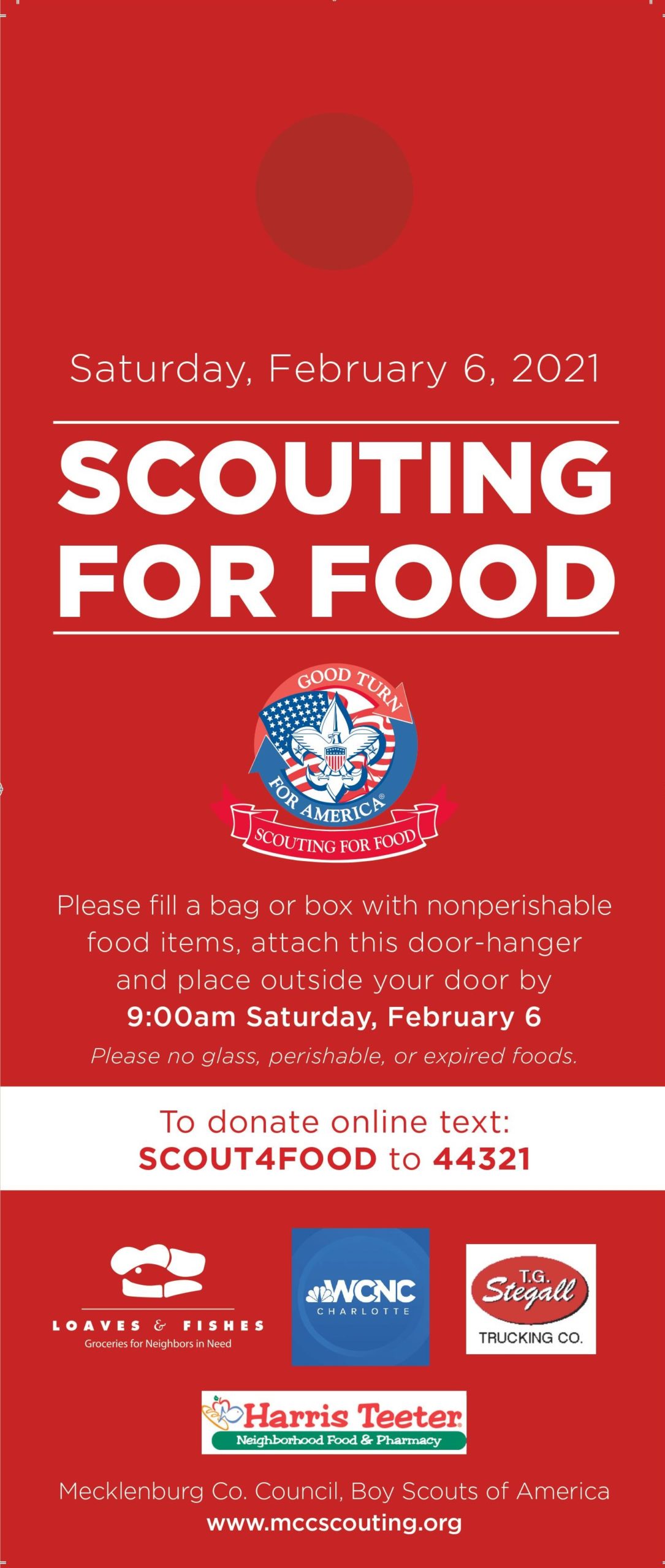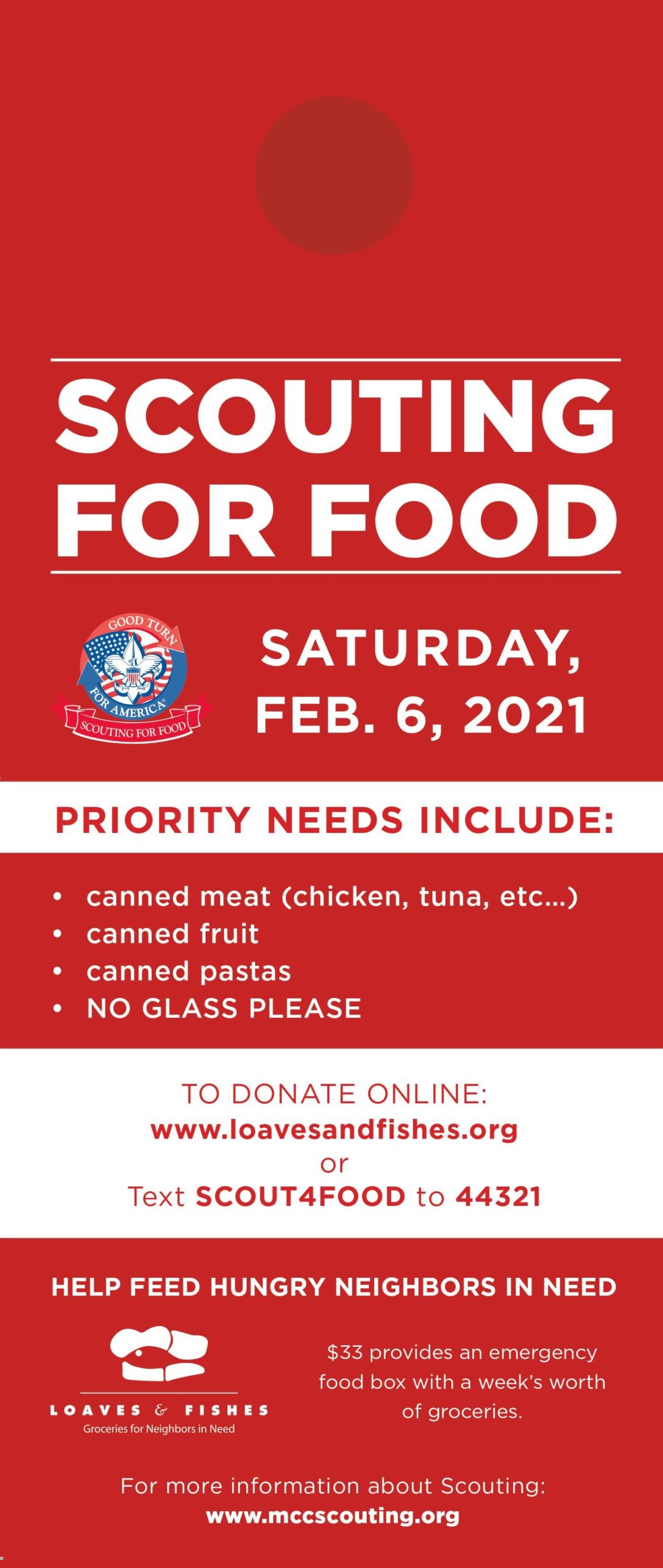 Scouting for Food is the super bowl of food drives for Loaves & Fishes – our largest community wide food drive of the year. Last year, Loaves & Fishes provided a week's worth of groceries to over 120,000 people in Mecklenburg Co., a dramatic increase over the number served the previous year.
If a scout does not leave a door hanger on your door, you can still give!! You can drop off food donations, drive through style, at any of these locations below on Saturday, Feb. 6, 10am-3pm, Sunday, Feb. 7, 12:30pm-2:30pm at certain locations (indicated below) OR Monday – Friday, 8:30am-4:30pm at the Loaves & Fishes warehouse located at 648 Griffith Road. 
You can also make a financial donation here or text 44321 on your mobile phone and enter the code: Scout4Food.   
Scouts will be on hand to collect donations at multiple locations including:
Ada Jenkins Center – 212 Gamble St., Davidson (Saturday, Feb. 6 only drop-off site)
Arboretum Shopping Center – Providence Rd. & Highway 51 (across from the Harris Teeter), Charlotte
Huntersville United Methodist Church – 14005 Stumptown Rd., Huntersville
Philadelphia Presbyterian Church – 11501 Bain School Rd., Mint Hill (Saturday, Feb. 6 only drop-off site)
Sharon Presbyterian Church – 5201 Sharon Rd., Charlotte
South Mecklenburg Presbyterian – 8601 Bryant Farms Rd, Charlotte (Saturday, Feb. 6 only drop-off site)
Steele Creek Athletic Association – 13530 Choate Circle, Charlotte (Saturday, Feb. 6 only drop-off site)
Town Center Plaza – 8600 University City Blvd., Charlotte
Trinity Presbyterian Church – 3115 Providence Rd., Charlotte (Saturday, Feb. 6 only drop-off site)
Scouting for Food is sponsored by Mecklenburg County Council of The Boy Scouts of America, Harris Teeter, WCNC Charlotte, and Stegall Trucking.