Scouting for Food Results Are In and Mecklenburg Co. Boy Scouts Collect 230,574 lbs of food for Charlotte's Hungry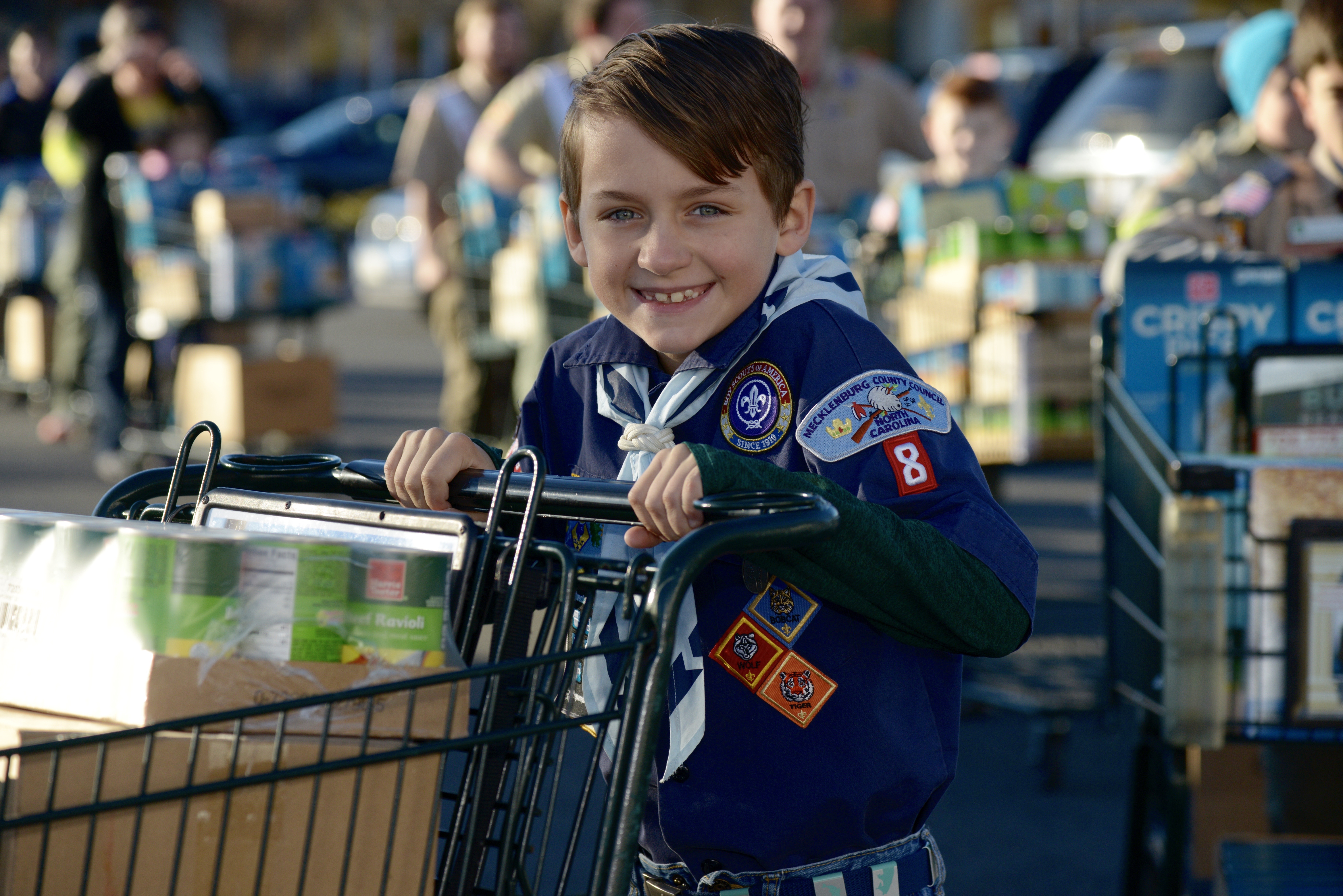 A generous Charlotte-Mecklenburg community has donated 230,574 lbs. of food for hungry neighbors in need during February's 2018 Scouting for Food Drive to benefit Loaves & Fishes.
An estimated 3,000 Boy Scouts from The Mecklenburg County Council of Boy Scouts of America went door-to-door February 3rd collecting food, as well as staffed multiple food collection sites throughout the county on February 3rd and 4th. Collection barrels were also located in all Mecklenburg County Harris Teeter stores through February 11th.
"Food from the drive continues to come in to our warehouse every day so we are confident this number will climb even higher," says Loaves & Fishes Executive Director Tina Postel. "This massive effort guarantees that there will be groceries in the homes of hungry families for months to come. We could not be more grateful!"
Adds Postel, "We cannot begin to thank the Mecklenburg County Council of Boy Scouts enough, not to mention the generous support of our corporate partners Harris Teeter and Stegall Trucking as well as the media coverage from NBC Charlotte and 103.7 WSOC. It has been absolutely amazing!"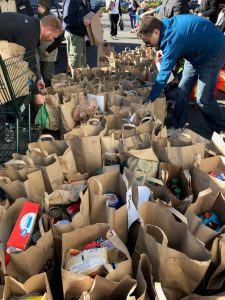 A successful drive is critical for the hungry in Charlotte-Mecklenburg as Loaves & Fishes depends on the Scouting for Food drive to provide up to 20% of the food distributed to hungry neighbors in need throughout the year. Just last year, Loaves & Fishes provided a week's worth of groceries to 75,000 individuals through its network of emergency food pantries in Mecklenburg Co.
"It's a Good Turn for America," says Mecklenburg Co. BSA Scout Executive and CEO Mark Turner. "It's what we do to become good citizens and we're training boys across the county how to be good citizens, how to get involved in their community and be a part of something bigger than they are."
Corporate partner Harris Teeter kicked off the drive by donating 120 cases of Loaves & Fishes' priority food needs including canned fruit, canned meat and cereal. Harris Teeter also teamed up with the Charlotte 49ers for Harris Teeter Assists at the 49ers' men's basketball game on Saturday, Feb. 3, 2018.  For every Niners' assist during the game, Harris Teeter committed to donate $50 worth of food to the Scouting for Food program.
Scouting for Food is the Mecklenburg County Council Boy Scouts of America (MCCBSA) annual council-wide service project collecting over 2 million lbs of food since 2010.  The MCCBSA would like to thank everyone in the community who donated food, as well as all our corporate partners, scouts, and parents in making Scouting for Food such a success.
Scouting for Food was sponsored by Mecklenburg County Council of The Boy Scouts of America, Harris Teeter, NBC Charlotte, The New 103.7 WSOC, and Stegall Trucking.
Loaves & Fishes provides a week's supply of nutritionally balanced groceries at no cost to individuals and families who are experiencing a crisis through a network of emergency food pantries in Mecklenburg Co. For more information about Loaves & Fishes, visit www.loavesandfishes.org. For more information about Mecklenburg County Council of The Boy Scouts of America, visit www.mccscouting.org