Save the Date! Mark Your Calendars for the Luncheon of Hope May 24
Mark your calendars now for Wednesday, May 24 for the annual Loaves & Fishes/Friendship Trays Luncheon of Hope. We are very excited for this year's one of a kind event as we will be be joined by Tommy DeCarlo, author of Unlikely Rockstar – The Tommy DeCarlo Story and lead vocalist for the band Boston since 2008! Join us for an unforgettable luncheon filled with a lot of inspiration wrapped up with a little rock and roll!
Click here for sponsorship opportunities and ticket sales. Contact Sue Bruce at sue@loavesandfishes.org for more information.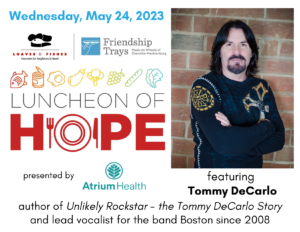 "There's no getting around it: Tommy DeCarlo is the first rock star of the social media generation." (Courier Post News) 
DeCarlo was born in Rome, New York. He discovered and became a fan of Boston at age 12. Years later, he began writing his own music and in the 1990s began recording covers of himself singing his favorite Boston songs. In March 2007, original Boston lead singer Brad Delp unexpectedly died at the age of 55. To honor Delp, DeCarlo wrote and recorded an original song about his favorite vocalist as well as a couple of Boston covers. His daughter suggested he post the songs on a Myspace page she helped him set up. He then decided to send his Myspace page link to Boston management. Not long after he was contacted by Boston founding member Tom Scholz. At the time, DeCarlo was working at a Charlotte area Home Depot as a Credit Manager. Tommy has been touring with the band Boston since 2008. 
Recently, Tommy recorded and released an audiobook "Unlikely Rockstar – The Tommy DeCarlo Story" in which he narrates his life events from birth through his first performance with the band Boston in 2007. The recording of the book occurred throughout 2020 and 2021. The audiobook is currently available on Audible and Amazon. 
DeCarlo formed the band Decarlo  with his son Tommy DeCarlo Jr. in 2012.