Loaves & Fishes' Luncheon of Hope to feature Stephanie Land, New York Times Bestselling author of MAID, Wednesday, May 26
Please plan to join us Wednesday, May 26th for the 3rd Annual Loaves & Fishes Luncheon of Hope. We are thrilled that this year's keynote speaker is New York Times bestselling author Stephanie Land. Her debut memoir, Maid: Hard Work, Low Pay, and a Mother's Will to Survive was chosen by President Obama for his 2019 Summer Reading List, as well one of the New York Times "100 Notable Books of 2019″, and is soon to be a Netflix series with Margot Robbie serving as an Executive Producer.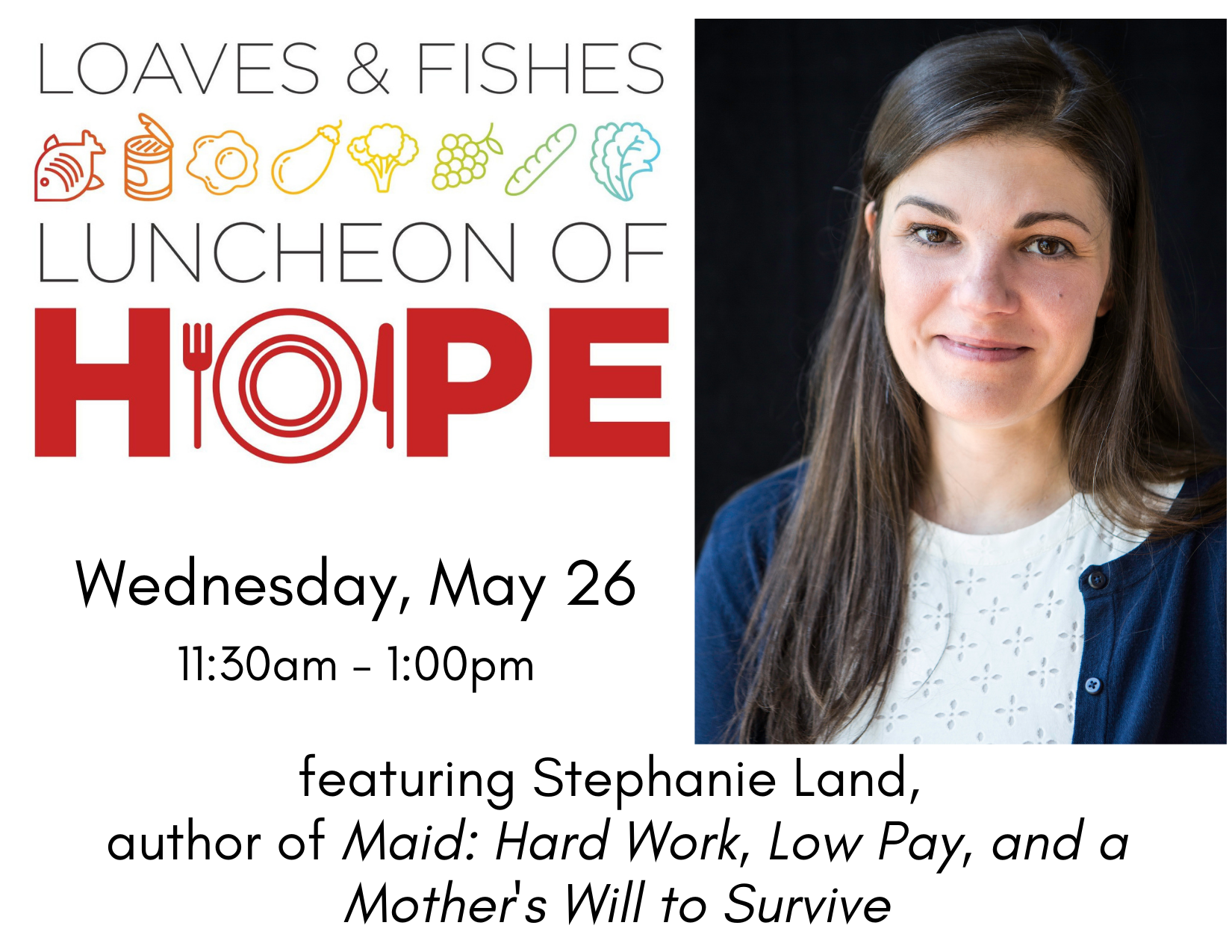 This year's luncheon will be held Wednesday, May 26th 11:30 a.m – 1:00 p.m. Event and table sponsorships may be purchased HERE. Consider a sponsorship as a way to make an even greater impact in the fight against hunger and poverty in our community. Individual tickets will be available soon.
In Maid, Ms. Land recounts her harrowing saga as a single mom navigating the poverty trap all while radiating a parent's hope and resilience.  Her unflinching writing about poverty and motherhood offers a stark look at what it means to struggle to get by, giving voice to the millions of "working poor" in our country.
"A single mother's personal, unflinching look at America's class divide, a description of the tightrope many families walk just to get by, and a reminder of the dignity of all work."
—President Barack Obama
One of Obama's 2019 Favorite Books & Obama's 2019 Summer Reading List
The Loaves & Fishes Luncheon of Hope seeks to raise awareness of and educate our community on the issue of hunger experienced by 1 in 5 children in Mecklenburg Co. especially during the summer. When summertime comes, many do not have access to school meals or lack transportation to access special summer feeding programs.
Loaves & Fishes fights hunger and poverty by providing nutritionally balanced groceries and hope through a network of emergency food pantries in Mecklenburg Co. Last year, Loaves & Fishes fed 80,232 people, enough to fill Bank of America Stadium. Almost half were children.
From Stephanie Land:
Hi there, I'm Stephanie Land
My passion is giving a voice to the invisible populations who live, work, and raise their families while experiencing food and housing insecurity in America. In my New York Times bestselling memoir MAID, I tell my story of juggling several housecleaning clients while working my way through college as a single mother. We were barely scraping by, struggling through a system of government assistance that more often pulls poor people back into poverty rather than lifting them out.
My writing as a journalist and my advocacy as a public speaker are fueled by my own experiences. I aspire to use my stories to expose the reality of what it's like to pursue the myth of the American Dream while being held back at the poverty line. Too often these stories aren't being told.
I want to change that.
-Stephanie Land
To learn more about Stephanie Land visit her website at stepville.com