This Mother's Day – Honor Your Mother, Feed Another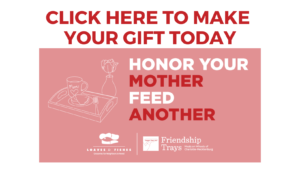 Despite challenging times, there are certain truths that will always remain the same. There are special women who will always be there to care for us and make sure that all is well. As Mother's Day draws near, we honor the mothers and special women in our lives who have raised us and cherished us by making sure we had enough to eat.
Every day at Loaves & Fishes/Friendship Trays we witness women who selflessly give of themselves to ensure the ones they love receive the food they need to lead healthy and vibrant lives. We fondly remember our founders and our current leader who have left an indelible mark on our neighbors and our community. We honor the mothers and grandmothers who visit our pantries to get their families the nutritious food they need.
Celebrate the special women in your life by giving the gift of hope and love this Mother's Day. By honoring the women who impacted you, you are empowering other special women to be there for their loved ones in a simple but vital way: by being able to feed their families.
When you make a gift honoring the special women in your life, you will have the option to have a special Mother's Day card sent to her to notify her of the gift or an email containing our beautiful Mother's Day graphic. Simply follow the link below and we will take care of the rest. Please note that we cannot guarantee cards will arrive before Mother's Day if your gift is made after Monday, May 2