Loaves & Fishes/Friendship Trays Thanksgiving Food Drive
This Thanksgiving, you can help nourish neighbors with food and compassion by donating much-needed food items.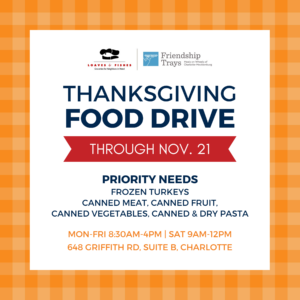 So far this year, we have provided groceries to 111,214 neighbors in Mecklenburg Co, surpassing the number we fed in all of 2022. With the busy holiday season still ahead we need your help to meet the increased need.
We are especially in need of pantry staples such as these priority needs items:
• Frozen Turkeys
• Canned Meat
• Canned Vegetables
• Canned Fruit
• Pasta – Canned or Dry Boxed
We are collecting food donations at our warehouse, located at 648 Griffith Rd, weekdays 8:30 am-4:00 pm, and Saturdays 9 am-Noon or you can shop for these items from our Amazon wish list and have them delivered directly to our door.
No time to shop – You can also make a financial donation online and provide Thanksgiving for All!