Loaves & Fishes/Friendship Trays Award Winners
Congratulations to the winners of our Outstanding Volunteer Awards for 2022!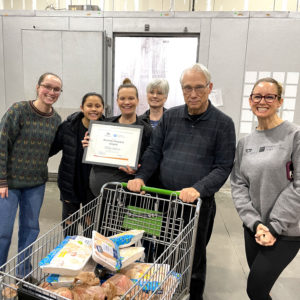 Philip Bobzin – Winner of the Beverly Howard Award
Philip Bobzin is a dedicated Loaves & Fishes/Friendship Trays volunteer. He is truly a jack of all trades when it comes to volunteerism. Philip is a staple in our phone center, spending 2 mornings every week taking referrals and scheduling our clients at pantries. When not answering calls in the phone center, you can find Philip sorting food donations, packing food relief boxes, preparing personalized online client grocery orders or distributing food at one of our many mobile pantry sites. Philip is a must have at our annual Tour de Turns event, helping from set up to break down and everywhere in between. Although he does not volunteer for the recognition, it is our honor to let Philip know just how much his service means to us!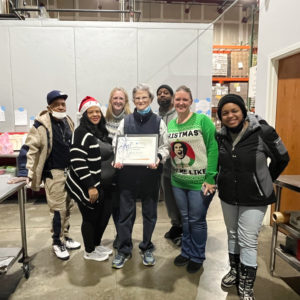 Kathy Nichols – Winner of the Lucy Bush Carter Award
Kathy Nichols is the recipient of the first ever Lucy Bush Carter Award honoring an outstanding Friendship Trays program volunteer and named in honor of retired Friendship Trays Executive Director, Lucy Bush Carter.
Kathy has been a volunteer for Friendship Trays since February 2007. A retired Watch Commander for the Charlotte-Mecklenburg Police Department, Kathy first became involved after witnessing the high standard of care her mother received from the Meals on Wheels program in her hometown in South Carolina. Kathy has been a superstar volunteer ever since!! Kathy volunteers five days a week, helping to pack, not only the meals for delivery, but also the bags of extra items for each meal and delivers at least two meal routes each day!
Thank you Kathy for your dedication, commitment, and passion for feeding our neighbors in need, we are beyond grateful to have you on our team!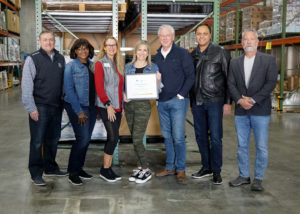 CIO Trailblazers – Winners of The Virginia Sampson Award
This amazing group of local CIOs used a combination of brain power, tech connections, and giving hearts to bring the dignity of choice back to our grocery home delivery program. When COVID shut down our pantries, we switched to prepacked food boxes which didn't allow for choosing the foods your family would love. After a brainstorming session, the group – from companies such as Hylaine, Trane Technologies, Food Lion, and Kroger – used their networks to connect Loaves & Fishes/Friendship Trays with Instacart to create FoodStorm, an online grocery ordering platform, the first partnership of its kind with a food pantry!
Aly Brooke of Hylaine and Steve Hagood of Trane Technologies were bothered by food insecurity and determined to make a difference. As Aly told Steve, "We know people, I think we can solve this!"
Thanks to these trailblazers, FoodStorm by Instacart launched last year serving over 2,400 individuals so far and putting dignity and human connection back into our grocery bags.
Two awards for one extraordinary leader, the one and only Lucy Bush Carter.
The Order of the Long Leaf Pine and The Ann Elliot Award
Lucy, the former Executive Director of Friendship Trays, was recently recognized for her outstanding contributions to both our state and community.
Lucy was recently awarded The Order of The Long Leaf Pine, the highest honor in the state of North Carolina. This prestigious honor is awarded to those who have made significant contributions to the state and their communities through exemplary service and exceptional accomplishments.
Lucy was also honored with the first-ever Ann Elliot Award. Ann Elliot founded Friendship Trays in the 1970s in a church kitchen with the simple but difficult mission of making sure all neighbors had a full table. The Elliot family presented the award in honor of Lucy's service and commitment to Friendship Trays, first as a volunteer and then as Executive Director, leading with perseverance, unshakable kindness, and relentless commitment to the mission. In the words of Ann Elliot's grandson Michael, "We knew Lucy's sole drive was making sure her neighbors had a full table – a simple but difficult mission."
Congratulations Lucy!!