How To Make A Client Referral To Loaves & Fishes
Loaves & Fishes provides a week's worth of nutritionally balanced groceries to families and individuals experiencing a short term crisis through a network of pantries located throughout Mecklenburg County.  The groceries are prorated for the size of the family – enough to prepare 21 nutritionally balanced meals for each family member.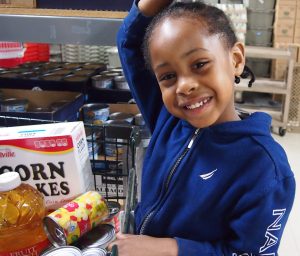 Clients must be referred in order to visit a Loaves & Fishes pantry. Referrals can come from Charlotte-Mecklenburg Human Service Agencies, qualified ministries, local clergy, school counselors, and medical providers who screen and evaluate cases.
If you determine that an individual or family is in need of food, you can make a referral to Loaves & Fishes.
Clients are eligible to receive a week's worth of groceries from Loaves & Fishes up to eight times in a 365 day rolling period. A referral is needed for each visit.
To make a referral, simply call Loaves & Fishes, 8:30am-4:30pm Monday – Friday at (704) 523-4333. Be sure to call from a phone that identifies your agency, school, house of worship, etc… on Caller ID, not a cell phone.
When making the referral please have the following information:
Name, Date of Birth, and last four digits of the Social Security Number for each person in the household who would like receive food.
Current Address of the individual or family including zip code and contact information in case we need to reschedule the appointment due to a pantry closing.
Additional demographic information such as gender, race, disability status and veteran status, as well as monthly income (This does not impact clients' ability to receive food or the amount they receive.)
If there are children, let us know if any of the children need diapers.
First and second choice of pantry location for food pick up. The complete list of pantries, locations and hours can be found at loavesandfishes.org.