Get Involved 2019
DURING THE CURRENT COVID-19 HEALTH CRISIS:
In an effort to limit exposure, keep everyone safe and observe the state and local Stay At Home order, Loaves & Fishes has temporarily suspended volunteer opportunities. We look forward to having all of our volunteers join us as soon as we possibly can! 
Thank you for choosing Loaves & Fishes for your volunteer experience!
Volunteers do the majority of the work of feeding hungry people in our community and are vital to Loaves & Fishes' success. Every box of cereal, every can of green beans, every container of yogurt is sorted, inspected and/or packed by a volunteer as it travels into a client's home.
Opportunities are available for both groups and individuals.
Students, teens, seniors, groups, families, individuals, regular, one-time-only—there is something for everyone age ten and up to do. Volunteer shifts in our warehouse are on Monday, Wednesday, Friday, and Saturday mornings from 9 to 11am. During busy season, there may be opportunities available in the afternoons. We also host or participate in a number of special events each year for which we also need volunteers.
Find out how you can make a difference and get involved today!
Volunteer Opportunities
Warehouse
Volunteers help us sort, inspect, and pack non-perishable food items for distribution to families and individuals in need through our network of 41 pantries throughout Mecklenburg County. Individuals and groups up to 20 people can sign up for a volunteer shift in our warehouse on Mondays, Wednesdays, Fridays, and Saturdays from 9 to 11am. On occasion we can accommodate groups larger than 20.
Children 10 to 14 years of age are welcome to volunteer with at least one adult for every six youth.
Teenagers 15 and older may volunteer on their own.
Students: Loaves & Fishes offers school community service hours to students based on the age guidelines above.
For Groups (up to 20)- group leader must register as an individual first. Click here to register.
No training needed.
Pantries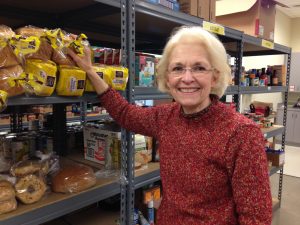 Our food pantries also need new volunteers from time to time.  Pantry volunteers work with clients to help choose their groceries, stock pantry shelves and receive food donations delivered to the pantry. Volunteer time varies by pantry. Training is required. Due to the time it takes to train, we ask for a on-going commitment to volunteer in a pantry.There are several pantries open every weekday.  Some pantries are open on Saturday mornings.  These are regular shifts generally at least once a month. Please email for more information.
Training required
On-going commitment preferable
Court Ordered Community Service
Loaves & Fishes accepts court ordered community service for individuals at least 18 years of age.  We do not accept charges involving theft, assault or weapons of any kind.  Court ordered community service can only be scheduled by Loaves & Fishes staff.  Please call the Volunteer & Food Drive Coordinator.
Employer Volunteer Grants
Your employer may convert your volunteer hours to dollars for Loaves & Fishes! Make sure that sweat equity doesn't go to waste. Check with your human resources office to find out if our employer has a volunteer grant.
To Get Started
Whether you are a first time or frequent volunteer, whether you are signing up as an individual or for a group, you must first set up your account.
Create an online account here or the Volunteer Now link below. You must create an account to sign up for a volunteer shift.
Complete the volunteer orientation and sign the waiver.
Sign up by clicking on the calendar and then choosing an open shift. After you have chosen a time, check your email for confirmation and details.
For Scheduling Groups the group leader must register as an individual first.
Hold a Food Drive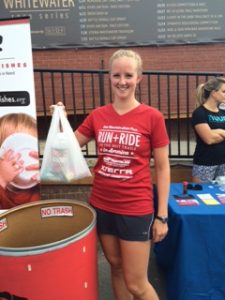 Organize a food drive at your work place, neighborhood, or congregation. This is a great way to give back by helping to feed hungry neighbors in need and to raise awareness of hunger issues in our community.
WHAT YOU NEED TO KNOW
Other Ways to Get Involved
Adopt a Pantry
Consider adopting one of Loaves & Fishes food pantries! Groups or individuals can choose a pantry to help collect items that supplement our bagging list. Items needed include fresh produce, diapers in all sizes, personal care items and items from our priority needs list such as canned meat, canned fruit, canned pastas, powdered milk, 100% fruit juice and cereal.
Get Creative
Birthday Parties – Ask attendees to bring canned goods in addition to or instead of birthday gifts
Lemonade Stands – Children have donated funds collected from their lemonade sales to benefit Loaves & Fishes
Party with a Purpose – Host a dinner and collect canned goods for Loaves & Fishes
Share Your Idea With Us – From companies allowing people to wear jeans for a day in exchange for a donation to families donating their movie money, we've heard many creative and touching ways that people have found to donate funds and ensure that people in our community don't go hungry. Please share your unique ideas with us.