Facing A Food Insecurity Crisis – Loaves & Fishes/Friendship Trays Sees Historic Highs In Numbers of Neighbors Needing Help This Summer
"Am I paying bills or buying groceries?" – Josephine
"I never thought the day would come that I would need the help." -Joann
"My mortgage went up at the same time that my food stamps were cut." – Andrea
Josephine, Joann and Andrea are just three of the neighbors who have been helped by Loaves & Fishes/Friendship Trays this summer. 
During the month of June, Loaves & Fishes/Friendship Trays provided a week's worth of groceries to 10,850 neighbors – the highest June in our 48 year history.
"Historically, we always anticipate summer being a tough time but what  we're seeing is unprecedented," says Tina Postel, Loaves & Fishes/Friendship Trays CEO. "In the month of June, we served the highest number of grocery clients on record."
Based on the amount of calls we are receiving, with the phones are ringing off the hook, July is on track for a record high as well.
Just take a look at the numbers. In June, we fed 10,850 neighbors a week's worth of groceries through our network of food pantries and grocery home delivery program, compared to 8,503 in June of last year. But most surprising, these numbers are higher than in June 2020 (9,763 fed) at the height of the pandemic.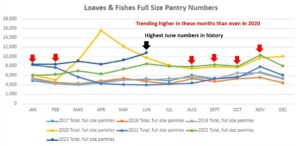 As you can see, we are facing a food insecurity crisis. To match that, we need a crisis response from the community. So far this fiscal year (Oct. 1, 2022 – June 30, 2023), we have spent $727,478 on food purchases which is $480,000 more than the prior year. And we still have 3 months to go in our fiscal year.
To keep up with the increased demand, Loaves & Fishes/Friendship Trays is purchasing tractor-trailer loads of food almost weekly. As soon as it is purchased, the food goes right back out the door to feed families in need through our network of 35+ food pantries and grocery home delivery program.
Why Now? Rent Eats First
While there are multiple factors behind the increase, the number one reason we hear from the neighbors we serve is the lack of affordable housing. Most of our neighbors are gainfully employed but are not making a living wage that can keep up with rising housing costs, utilities – especially in this extreme heat – and general cost of living. We are also seeing the impacts of cuts to SNAP benefits that took effect this spring.
For a deeper dive into the dramatic increases we are seeing, the reasons behind it, our response and how you make a difference watch Tina's interview with WBTV's Dedrick Russell here
How can you help?
There are variety of ways that you can help right now!
Financial donations help us purchase much needed food items in bulk. Donations can be made at loavesandfishes.org
Hold a food drive at work, in your neighborhood, swim club, house of worship, etc… visit loavesanfishes.org to find information about holding a food drive.
Food donations – pick up a few extra items on your next trip to the grocery store – we are especially in need of canned fruit in juice, canned meat, low sodium canned vegetables, fresh produce, etc… Drop off food donations at the Loaves & Fishes/Friendship Trays warehouse located at 648 Griffith Dr., Charlotte, 28217 – or purchase priority items from our Amazon Wish List.
Drop off fresh produce from your garden.
Volunteer! We are currently in need of volunteer drivers to deliver groceries through our grocery home delivery program and meals through Friendship Trays, our Meals On Wheels program. Volunteer once, once a week, once a month – whatever suits your schedule – and deliveries can be done with the kids. To volunteer, visit loavesandfishes.org/get-involved.
The difference you make?
As Joann shared, "I was about in tears when she (the volunteer grocery delivery driver) left my house. Loaves & Fishes/Friendship Trays is such a blessing."