Loaves & Fishes COVID-19 Response – How You Can Help
Throughout the COVID-19 health crisis, we at Loaves & Fishes remain steadfast in our mission to feed our hungry neighbors in need. Our staff has been actively working in partnership with Second Harvest Food Bank, CMS Nutrition Services and other community partners to meet the hunger needs of those impacted by this crisis.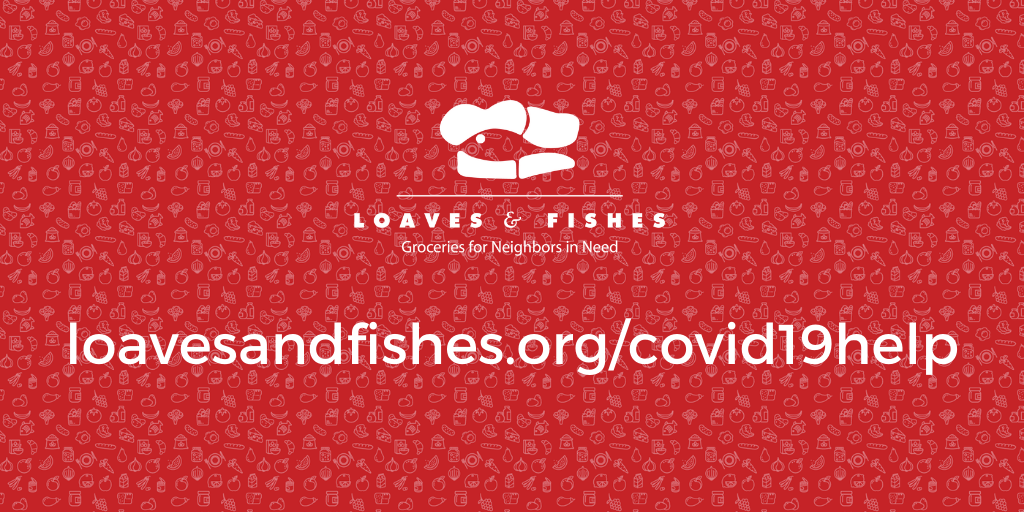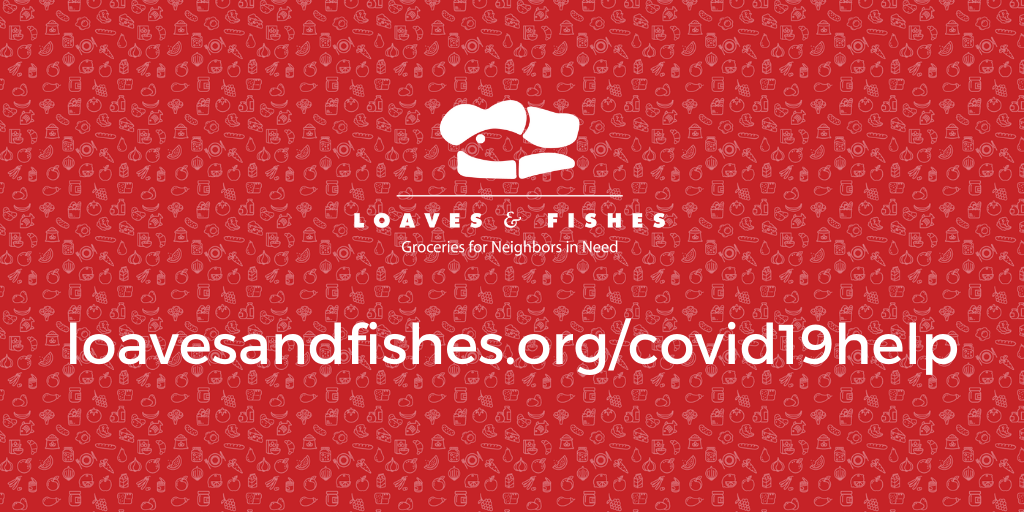 We are taking the following steps to serve a week's supply of groceries while keeping clients and volunteers safe:
We have temporarily closed our "brick and mortar" full size pantry locations and have switched to mobile pantry operations. These mobile pantry food distribution sites allow us to serve more people in a shorter time frame while keeping our clients, volunteers, and staff as safe as possible.
Clients are served "drive through" style, receiving an emergency food box containing a 7-day supply of non-perishable foods for each member of the household, as well as fresh produce, meat, eggs and dairy.
Staff and volunteers wear masks to protect clients and one another as we serve our neighbors in need.
The Loaves & Fishes Board of Directors voted to increase the number of pantry visits a client is permitted from 8 to 12 times per rolling calendar year. 
How can you help right now?
Financial donations are the best way to help. We  a dramatic increase in the number of neighbors looking for emergency food help. In just a matter of weeks, our numbers exploded – from feeding 1,100 neighbors a week in early March to over 3,500 a week.  Your support is needed now more than ever to ensure our neighbors in need are fed. Donate here or TEXT 44321 to your cell phone and use the code HUNGERACTION.
We also have a Peer-to-Peer Fundraising option where you can use your social networks to fundraise for us. Click here for an easy 3 step guide to start your own peer-to-peer fundraiser, or social giving challenge, and become a hunger hero today!
Volunteering:
In an effort to limit exposure, keep everyone safe and observe the state and local Safer At Home order, Loaves & Fishes has temporarily suspended volunteer opportunities.  Temp workers are helping to pack emergency food boxes with purchased food at this time thanks to emergency funding from the Foundation for the Carolinas/United Way COVID-19 Response Fund to help cover some of this expense. We look forward to having all of our volunteers join us as soon as we possibly can! 
Keep up with the latest news on our news and events page.
Spanish Help:
Throughout the COVID 19 crisis, we have seen food insecurity needs among the Latinx/Hispanic community rise dramatically.  To better assist our Spanish speaking neighbors in need, we have created an email account for inquiries in Spanish.  Questions or comments can be emailed to: AyudaEnEspanol@loavesandfishes.org.  We currently have a Social Work/Spanish Major intern from UNC Wilmington, Nicole Fortoso who will be helping answer any questions this summer for our Spanish speaking friends.
We anticipate the need to continue to rise in our community as a result of the economic impact of COVID-19.  Because of your support, we are working hard to stay one step ahead and ready to safely and effectively meet the food insecurity needs of our community despite these challenges.
As always, thank you for your support of Loaves & Fishes!
Donate here