Loaves & Fishes COVID-19 Response – How You Can Help
Loaves & Fishes provides the essential service of food and is therefore EXEMPT from the current Stay-At-Home order so that we can continue to serve our neighbors in need.  
As our community comes together to stop the spread of the COVID-19 virus, we at Loaves & Fishes remain steadfast in our mission to feed our hungry neighbors in need. Our staff has been actively working in partnership with Second Harvest Food Bank,  Friendship Trays, CMS Nutrition Services and others to meet the hunger needs of those impacted by this crisis.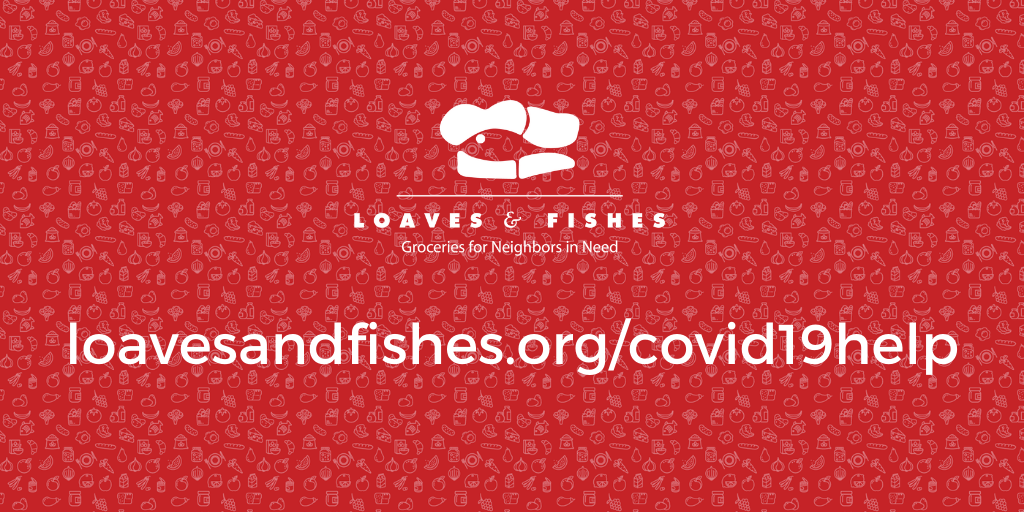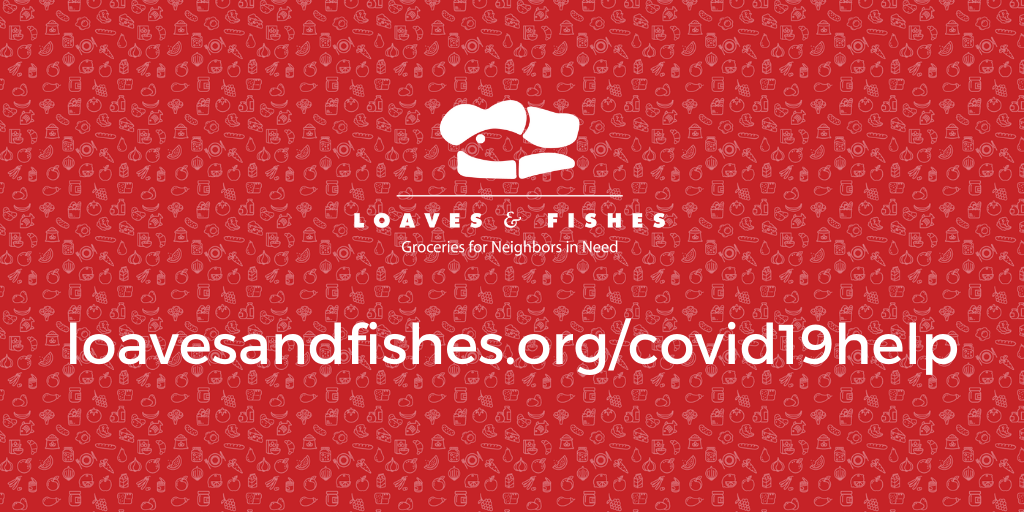 We are taking the following steps to serve a week's supply of groceries while keeping clients and volunteers safe:
As the need continues to increase, we are coordinating plans to temporarily close a majority of our "brick and mortar" full size pantry locations beginning the week of April 6th, and making the switch to mobile pantry operations. We are working with our Loaves & Fishes pantry coordinators and volunteers to focus on operating several large 90-minute mobile pantries in the parking lots of many of our regular pantry locations. These mobile pantries will allow us to serve three to four times more people in a shorter time frame while keeping our clients, volunteers, and staff as safe as possible.
In an effort to reduce close personal contact and keep our clients and volunteers safe, volunteers will serve clients "drive through" style, placing a pre-packed emergency food box with a 7 day supply of food in the client's car.
How can you help right now?
Financial donations are the best way to help. We are already seeing a dramatic increase in the number of neighbors looking for emergency food help. In just three weeks, we have surged from feeding 1,200 neighbors a week to over 3,500 a week. We realize that these are just the early days of this crisis and the need will only continue to grow. Your support is needed now more than ever to ensure our neighbors in need are fed. Donate here or TEXT 44321 to your cell phone and use the code HUNGERACTION.
We also have a Virtual Food Drive option where you can use your social networks to fundraise for us. Click here for an easy 3 step guide to start your own peer-to-peer fundraiser, or social giving challenge, and become a hunger hero today!
Volunteering:
In the three short weeks since this crisis began, we have gone through all of our food drive inventory leaving no more food for volunteer groups to sort in our warehouse. Temp workers are helping to pack emergency food boxes with purchased food at this time thanks to emergency funding from the Foundation for the Carolinas/United Way COVID-19 Response Fund to help cover some of this expense. Volunteers will be needed as we switch over to mobile pantry "drive-throughs" beginning the week of April 6th. Details and volunteer shifts for these mobile distribution sites will be added here soon.
  The funding announcement and our hard work were recently highlighted here:  Charlotte Business Journal.
Keep up with the latest news. Click here for weekly detailed updates from Executive Director Tina Postel.
We anticipate the need to continue to escalate in our community and around the nation as a result of this virus and the economic impact on lower income families.  Because of your support, we are working hard to stay one step ahead and ready to safely and effectively meet the food insecurity needs of our community despite these challenges.
As always, thank you for your support of Loaves & Fishes!
Donate here