Brown Paper Grocery Bags Lined Up The Street…..These Are A Few Of My Favorite Things! Scouting for Food Totals 255,779lbs of Food!
Most of you know that cherished song from the Sound of Music, right?  "When the dog bites, when the bee stings, when I'm feeling sad, I simply remember my favorite things and then I don't feel so bad"
The first weekend in February, I experienced a few of my absolute favorite things during our annual Scouting for Food Drive.
Boy Scouts, blue skies and trailers full of donated food! 255,779 lbs of food to be exact!!
Amid a government shutdown, a threatened loss of SNAP (food stamp) benefits for vulnerable individuals and families and a perceived growing political divide, I watched in amazement as our community rallied together around hunger to help our fellow neighbors in need.  Led by the Mecklenburg County Council of Boy Scouts, bags and bags of food began rolling into eleven collection sites throughout the community on February 2nd and 3rd.
NBC Charlotte not only helped spread the word in a week long media frenzy leading up to the big collection weekend but their on-air celebrities and behind the scenes employees showed up in full force to help us sort food as it came in.
Neighbors who were left empty brown Scouting for Food bags on their doorsteps generously filled them up with much needed items such as canned fruit, vegetables, pasta and cereal.  Harris Teeter shoppers preparing for the super bowl purchased extras and dropped them in red collection barrels at store entrances.
Parents and scouts of all ages collected bags throughout Charlotte and brought them to one of the collection sites to be weighed and sorted.  Friendly strangers walking or driving by would wave and even hand us money to purchase additional food donations.  For a weekend, people forgot their own worries and instead lent a hand to someone less fortunate.
I witnessed humanity at its best on a bright and beautiful weekend in February.
Among all the organized chaos, I took a moment to just step back and watch this symphony of compassion happen all around me. The smiles of the volunteers working tirelessly, the sight of the thousands upon thousands of bags generously filled with food donations won't soon be forgotten.
Those who filled these bags or dropped food into a collection barrel  may never meet the clients who will now get to shop one of our Loaves & Fishes pantries for free but the impact of their kindness will be felt by so many.
If you were an instrument in this magical event……from the bottom of my heart…..THANK YOU. 
You are one of my favorite things.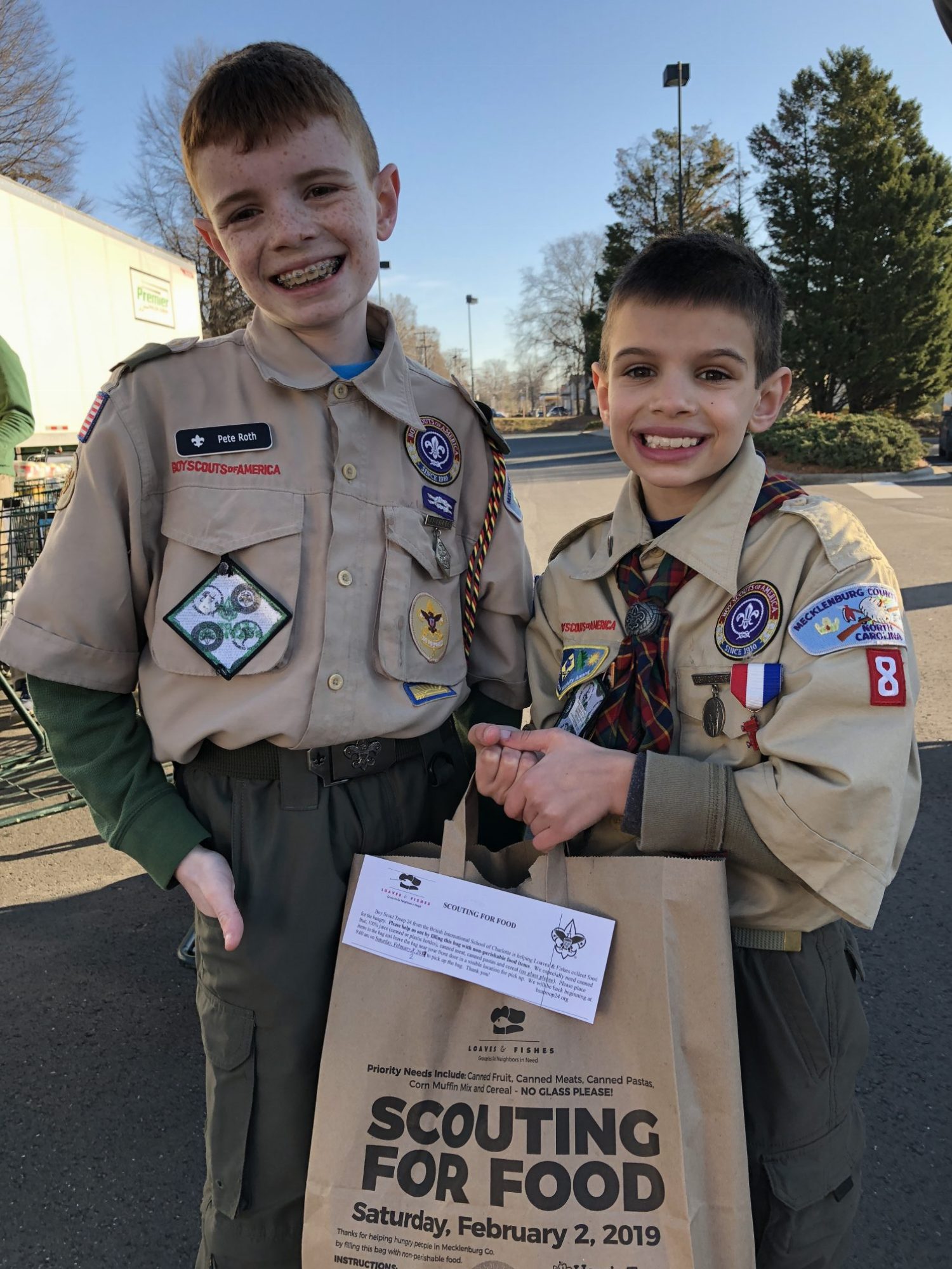 By Tina Postel, Loaves & Fishes Executive Director
Check out the Scouting for Food 2019 Photo Gallery